Meeting of German bishops sparks Vatican concern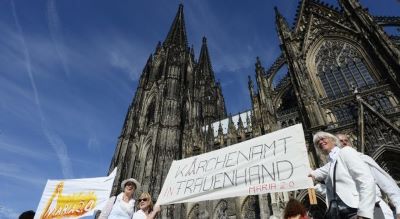 Protests in Germany (Photo Credit: Il Messaggero)
 ROME – The Vatican is watching nervously as German bishops meet in Fulda, central Germany, to debate and launch a campaign of change for the Catholic Church in Germany.
 The structural reforms to be discussed include such matters as female priests, the abolition of priestly celibacy and greater freedom regarding matters of sexual morality, reports Il Messaggero.
 The disrupted state of the German Catholic Church is evident from the protests of Catholic women.  On Sunday there was a protest in Cologne demanding that women be allowed to become priests.  Meanwhile, the "Maria 2.0" network of Catholic women is working to raise awareness of issues of sexism and sexual abuse within the Catholic Church, and to campaign for change.
  Cardinal Reinhard Marx, chairman of the German Episcopal Conference, has had a series of meetings with Pope Francis ending on Friday, offering reassurance that there will be no schism in the Church.  Marx has also said that new positions for women are expected, along with their "inclusion in leadership processes at every level," but that their admission to the priesthood remains barred, according to Il Messaggero.
 Even Francis is reluctant to allow such a radical overhaul of Church traditions and structures, despite the upcoming Synod for the Amazon, where the question of female deacons will be openly addressed.
 The German plenary council runs from Monday to Wednesday.
im