Ambassador illuminates Pakistan's sticky Kashmir wicket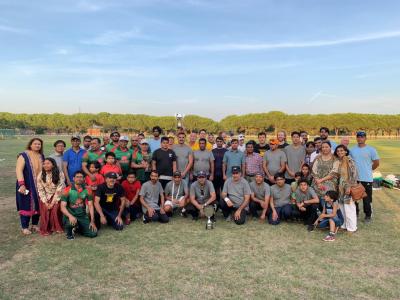 Pakistan's victorious team at the CCR Cup Saturday with Ambassador Nadeem RIyaz at centre with sling on arm. Photo Credit: CCR
 ROME – Pakistani Ambassador to Italy H.E. Nadeem Riyaz shrugged off a recent cricket injury to appeal to the foreign and Italian press for coverage of 'atrocities' and human rights abuses in the Indian annexed half of disputed Kashmir which has been under curfew and a communications blackout since August.
  Ambassador Riyaz gave the foreign press corps and Italian journalists a briefing on the Kashmir crisis at the Pakistani Embassy Wednesday evening wearing a sling bandaged around his waist after he suffered a fractured shoulder while keeping wicket for his Embassy team during the Commonwealth Club cricket tournament that was held on Saturday. A burly young player for the Commonwealth Club's side careened into the ambassador while trying to complete a run.
 Despite the injury Pakistan's team won the hallowed competition.
 Ambassador Riyaz invited journalists to travel to the Pakistani occupied half of Kashmir where Kashmiris have their own autonomous government independent from Islamabad. India's populist prime minister Modi cancelled a clause in the Indian constitution last month to claim its half of Kashmir as an integral part of India, a move that has brought the two countries to the brink of war and fueled fears of a nuclear conflict.
 Ambassador Riyaz noted that India had stated it might not adhere to the 'no first use' policy of nuclear strike. While India's armed forces vastly outnumber those of Pakistan, Islamabad has a 'tactical advantage,' in unconventional weapons, the ambassador added.
 Kashmir has been a trouble spot since the end of British India when the local maharajah, a Hindu, disregarded the wishes of the Muslim majority in Kashmir to become part of Pakistan.
 A 43-page report by the Office of the UN High Commissioner for Human Rights (OHCHR), released in July raised serious concerns about abuses by state security forces and armed groups in both Indian and Pakistan-held parts of Kashmir.
The Indian government dismissed the report as a "false and motivated narrative" that ignored "the core issue of cross-border terrorism." Pakistan welcomed the report but requested that sections be removed or amended in which the information was "not specific to Pakistan-Administered Kashmir but were general human rights concerns affecting all of Pakistan."
 jp
H.E. Nadeem Riyaz, file photo