Series of modern art exhibitions in Trento
Richard Artschwager, Exclamation Point, 2010 (detail)
 TRENTO – The Museum of Modern and Contemporary Art of Trento and Rovereto (Mart) is launching a series of exhibitions and events for its Mart's Grand Autumn 2019 programme.
 These include "Dancing the Revolution" which is described as the highlight event of the autumn programme.  It focusses on Isadora Duncan's influence and links to Italy, and more widely on the liberation of women's bodies.  It will be the first exhibition in Italy dedicated to the dancer.
 Mart features artworks from over 150 years of history, from the 1800s to today, with particular focus on twentieth-century Italian art.  It includes the Casa d'Arte Futurista Depero, a futurist museum.
 Under the direction of its new president Vittorio Sgarbi, Mart's Grand Autumn programme features a range of exhibitions.  Some focus on specific artists, such as an exhibition on Richard Artschwager in collaboration with the Guggenheim Bilbao and featuring exhibits loaned from such galleries as the Tate Britain and the Whitney Museum of American Art.  Meanwhile, "Tuuumultum!" at the Casa d'Arte Futurista Depero looks at the relationship between music and art, comparing across historical periods.
 There will also be Focus Collections featuring artworks from the museum's permanent galleries. 
 The events include film showings, dance performances and open days.
 The Grand Autumn programme works with major international and Italian museums, but also with local institutions involved in the planning of events. 
 Over the course of the autumn, Mart will continue to make links with programmes and structures in the Rovereto area, sharing with the municipality the project to build relationships drawing the museum closer to the University of Trento, and the festivals and institutions of Rovereto.
 im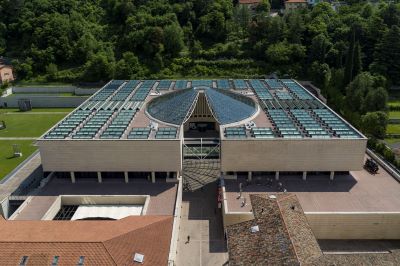 Mart (Photo credit: Mart, Jacopo Salvi)
Plinio Nomellini, Isadora Duncan, 1914