Slow Food guru advocates fast solution to climate change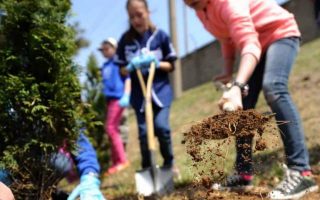 TURIN – Planting 60 million trees – one for every Italian citizen – as soon as possible throughout the country is the challenge set by Slow Food movement guru Carlo Petrini in the fight against climate change. 
 In collaboration with the Laudato Sì community, Petrini said the initiative, "Un albero in più" (One tree more), is aimed at aiding Italian forests, which have increased by 72 per cent compared to 1935, and now cover 10.9 million hectares.
 Founded by Petrini and bishop of Rieti Domenico Pompili, the Laudato Sì community refers to a network of communities in the world, in the form of free and spontaneous associations of citizens, with ten groups in Italy. 
 Inspired by Pope Francis' second encyclical (a papal letter sent to bishops of the Roman Catholic Church) published in May 2015 on the link between man and the environment, the Laudato Sì community is working towards boosting reforestation.
 "We can do it today, right away: it would not affect our lifestyles, it would have ridiculously low costs compared to any other alternative and it would certainly work," read the appeal signed by Petrini, Pompili and Stefano Mancuso, scientist and director of the International Laboratory for Plant Neurobiology (Linv). "Planting billions of trees covering every area of ​​the planet that may be suitable. Above all our cities, where the presence of trees would also have other positive effects: reducing the urban heat island during the great heat waves in summer, hosting biodiversity, mitigating urban floods, improving liveability. Immediately. It can be done and can be done quickly and with little."
 Trees are the best weapons against the spread of carbon dioxide, combatting the increase in the greenhouse effect on the earth's atmosphere and the progressive rise in temperatures, according to scientists.
 The figures of FAO, the UN agency for food and agriculture, are worrying: to reduce global warming by one and a half degrees, one billion more hectares of forest are needed by 2050. An excessive amount, considering we only have 5.5 billion hectares of greenery on Earth.
 Desertification, the melting of ice caps and perennial ice, the higher incidence of drought along with increased risk of fires – these are just some of the environmental emergencies we face today.
 cc