Franceschini vows to stop cruise ships in Venice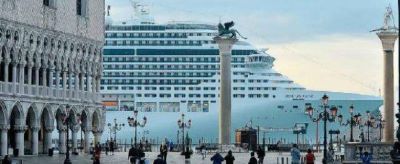 VENICE – The new minister for Cultural Activities and Tourism, Dario Franceschini, has committed to end the presence of large cruise ships in Venice.
 "A commitment: by the end of my mandate no more big ships will pass in front of St Mark's… we have lost too much time and the world is watching us, incredulous," he tweeted.
 The minister was visiting Venice for the film festival, which itself featured a protest against cruise ships on September 7.  About 300 people occupied the red carpet to protest against cruise ships in Venice and environmental issues more widely, reported La Stampa.  They argued that cruise ships worsen global warming and erode Venice's foundations.
 The protestors remained for several hours, leaving before the festival's closing ceremony, held that day.
 The presence of cruise ships in Venice has long been controversial.  The issue was brought into particular focus following an incident on June 2, when a cruise ship ran out of control in the Giudecca Canal, injuring five people.
 The government had already put plans into place to re-route some large cruise ships away from the historic centre.  However, protestors insist that more needs to be done to protect the city.
 im