Conte 2 government sworn in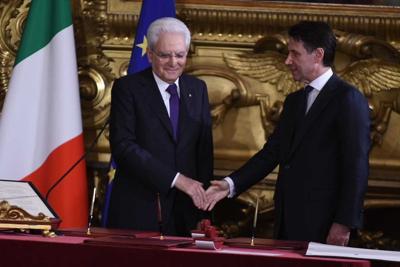 ROME – Italy's Prime Minister Giuseppe Conte and his new brood of Cabinet ministers were sworn in by the head of state, Sergio Mattarella, at the Quirinal Palace, on Thursday.
  "There is a parliamentary majority and a government has formed," Mattarella said. "The word is the responsibility of Parliament and the government, which in the coming days will come to the Chambers to ask for confidence and present the program."
 Conte formally told President Sergio Mattarella Wednesday that he had "removed his reservations" on concocting a new coalition, after reaching anagreement with former foes the Democratic Party (PD) and Five Star Movement (M5S) on forming a new centre-left government. 
 "Strengthened by a program that looks to the future, we will dedicate our best energy, our skills, our passion to make Italy better in the interests of all citizens", said the Prime Minister-elect, this time presiding over a M5S-PD alliance.
 The new coalition, which must be approved by both houses of parliament, will face a confidence vote in the Chamber of Deputies on Monday and in the Senate on Tuesday. 
 Wrangling over key jobs continued up to the last minute, however, the new cabinet line-up consists of 21 ministers, 10 from the M5S, nine from the PD, and one from the left-wing Liberi e Uguali party. 
 One third of the new cabinet is made up of women. Additionally, with an average age of 47 years, the new coalition government led by Giuseppe Conte is the youngest in Republican history, according to Il Sole 24 Ore.
 The most senior is Luciana Lamorgese, 66, who takes over Matteo Salvini's role of Interior Minister.  Lamorgese, a lawyer and former security chief of Venice, is a specialist in migration. Also of note is the geography of the new ministers, with 11 coming from the south.
 "There is a great desire to do and we will start from where we left off with the cut of 345 parliamentarians and a saving of about half a billion to be sent to schools, infrastructures, hospitals," said the head of M5S and former deputy premier Luigi Di Maio, who has been appointed Foreign Minister. 
 His coalition counterpart, Nicola Zingaretti – the PD party leader – spoke of "a unique program" and a new team.
 "The government is undergoing a strong generational change. Now it's time to change Italy," Zingaretti said.
 PD appointments include Roberto Gualiteri, a Democrat MEP and university professor, who is serving as Minister of Economy and Finances, Lorenzo Guerini becomes Defense Minister, Paola De Micheli, the Infrastructure & Transport Minister and Teresa Bellanova, the Minister for Agricultural Policy.
 Five Star Movement portfolios include Alfonso Bonafede as Minister of Justice, Stefano Patuanelli as Economic Development Minister, Nunzia Catalfo as the new Labour Minister (the role previously held by Di Maio), Sergio Costa, as Environment Minister and Lorenzo Fioramonti, a professor of Political Economy at the University of Pretoria (South Africa) takes on Education.
 The highly contested role of cabinet undersecretary has been assigned to Riccardo Fraccaro (M5S), previously Minister for Parliamentary Relations.
 cc