Pope Francis names 13 new cardinals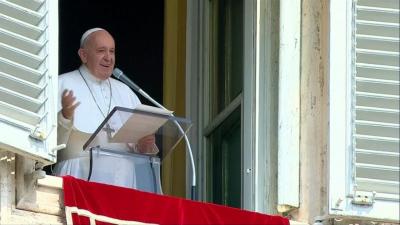 VATICAN CITY – Delayed for his weekly Angelus prayers after being trapped in an elevator, Pope Francis named 13 new cardinals who will become "princes of the Church" in October, Vatican sources said on Monday.
 Francis apologised to the faithful gathered in Saint Peter's Square on Sunday telling them he was late for the prayer service because he had been stuck in an elevator for almost half an hour.
 "I was trapped in a lift for 25 minutes, there was a power outage and the lift stopped, but then the firemen came," said the pope who appeared cheery and in good spirits despite the inconvenience.
 After asking the waiting crowd to applaud the fire service, the pontiff named the 13 men who will officially be elevated to cardinal status on Oct. 5.
 Further surprising his audience the pope said several of the soon-to-be cardinals were prelates who worked in the Muslim world, while others were known for their work with refugees.
 Once again the choice of names is the result of a very personal reflection by the pope, not shared with the heads of the Secretariat of State as had traditionally been done in the past.
 Coming from countries as diverse as Indonesia, Cuba, Luxembourg, Morocco and the Democratic Republic of Congo, the 13 were
 -- Migeul Angel Ayuso Guixot, mccj, current President of the Pintifical Council for Interreligious Dialogue;
 -- Archbishop José Tolentino Medonça, Archivist and Librarian of the Holy Roman Church; 
 -- Ignatius Suharyo Hardjoatmodjo, Archbishop of Jakarta;
 --  Juan de la Caridad García Rodríguez, Archbishop de San Cristóbal of Habana; 
 -- Fridolin Ambongo Besungu, o.f.m. cap, Archbishop of Kinshasa;
  -- Jean-Claude Höllerich, the Jesuit Archbishop of Luxembourg; 
  -- Alvaro L. Ramazzini Imeri, Bishop of Huehuetenamgo; 
   -- Matteo Zuppi, Archbishop of Bologna; 
   -- Cristóbal López Romero, sdb, Archbishop of Rabat; 
   -- Father Michael Czerny, also a Jesuit, Undersecretary of the Migrants and Refugees Section of the Pontifical Commission for Promoting Integral Human Development; 
    -- Archbishop Michael Louis Fitzgerald, Former Apostolic Nuncio of Egypt;
    -- Sigitas Tamkevičius, another Jesuit who is Archbishop Emeritus of Kaunas;
   -- Eugenio Dal Corso, psdp, Bishop Emeritus of Benguela.
    Ten of the 'cardinal electors' who are under the age of 80, will be eligible to elect a new pope in an eventual conclave.
 cc