Conte 'close to throwing in towel'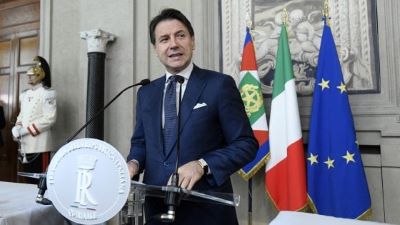 ROME – Italian Prime Minister designate Giuseppe Conte was close to throwing in the towel Saturday on his efforts to concoct a Five Star and Democratic Party coalition government amid speculation in PD circles that M5S leader Luigi di Maio might deliberately be sabotaging discussions, political sources said. 
 Luigi Di Maio, leader of the Five Star Movement, has issued a list of as many as 20 policy points which he says must be accepted, or it would be better to go to a vote. Il Messaggero newspaper quoted PD officials speculating that DI Maio had reached a secret deal with League leader Matteo Salvini for their two parties to make an electoral pact if Conte fails to conjure up a government.
 The parties of the putative coalition government, the Democratic Party and the Five Star Movement, have yet to resolve issues surrounding the allocation of ministries and posts, with the most severe problem still that of the deputy prime minister.
 Di Maio would like to remain in that role.  Nicola Zingaretti, secretary of the Democratic Party (PD), insists that a PD deputy prime minister is essential for balance and stability, given the PD view that Conte, who was the Five Star's proposal for prime minister, is on the Five Star side.
 Two deputy prime ministers could be the solution, but Conte himself might prefer to have no deputy prime ministers, in keeping with his new image as a decisive political figure in his own right, said Il Messaggero.
 A further potentially destabilising issue is that of the so-called Rousseau poll of the Five Star party on the new government.  However, Di Maio and Conte have reassured President Mattarella that the Five Star Movement will still be in favour of an alliance even if the outcome of the poll is negative, political sources report.
 Discussions over ministries continue, with potential disagreement in the Democratic Party as, whilst Zingaretti wants new people as ministers, former prime minister Matteo Renzi wants at least three ministries for his own supporters, as Il Fatto Quotidiano reports. 
 There are also some signs that the coalition is becoming more stabilised.  Conte held talks with a number of political parties on Friday.  The Liberi e Uguali federation of left-wing parties gave their preliminary support to the government, reported Il Fatto Quotidiano.  Their support would help to increase the majority of the coalition between the Democratic Party and Five Star. 
 jp-im