More Metro A disruptions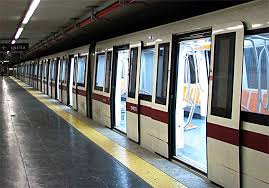 ROME – Passengers will have to use alternative transport means throughout August during closures for maintenance works on Metro line A.
 With the super busy underground stretch from Termini to Anagnina currently closed, the replacement bus service has already caused hiccups. Bewildered Romans and tourists, complaining about the lack of visibility of signs for substitute buses at the Roma Termini bus terminus, were forced to request information from ATAC personnel who directed them to randomly placed red A4 sheets.
 The Termini-Anagnina section will remain closed until August 13. The replacement shuttle service is labelled Ma3 and Ma9. 
 From August 14 to 19 the section between Ottaviano and San Giovanni will be suspended with replacement buses provided. Trains will, however, continue between Battistini and Ottaviano; and San Giovanni and Anagnina. 
 From August 16 to 25 – on Friday and Saturday nights – the last Metro A rides from the terminus will leave at 11:30 p.m. instead of 1:30 a.m. 
 From August 20 to 25, there will be Metro A interruptions between Termini and Battistini but trains will continue to operate between Termini and Anagnina. 
 The service returns to normal from August 26.
 cc