Benedict breathes life into Cuba's deeply-rooted faith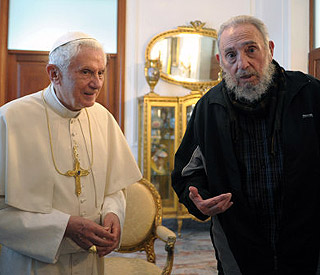 WASHINGTON -- Benedict XVI's journey to Cuba was evidently judged by his advisers to be a necessary one, in view of the numerous, long-standing problems the Church faces on that island. But it was hard to imagine just what this pope could easily do to confront and resolve many difficulties which go back to the historic power of Masonry in Cuba, which usually kept the Catholic Church in a decidedly weaker position than in other Latin American countries.
 
    Yet Cuba was full of intelligent and well-educated Catholics who, after they fled their homeland when Fidel Castro seized power in the late 1950s, largely relocated in the United States, and managed in no time to adapt to American manners and American values, and to flourish wonderfully.  They did very well in business, and in numerous instances  soon acquired a fair amount of money.
 
     In 1945 when Pius XII named 32 new cardinals, eleven were prelates in the western hemisphere, governing large dioceses in North and South America.  Havana, Cuba, was one of these new ecclesiastical capitals - along with Toronto, Detroit, and Saint Louis in North America, and Lima, Sao Paolo, Santiago (Chile), and Rosario (Argentina) in the southern continent.  Among all the many cities honored with Red Hats in the western hemisphere in 1945, only New York, Rio de Janeiro, and Chicago had had a cardinal archbishop previously.  The widespread use of travel by airplane in the 1930s had made this possible.
 
     Before the promotions of 1945,  only a single cardinal was living in North America (in Philadelphia) and one in South America (Buenos Aires).
 
      An special reason for the Pope to visit Cuba this year is that 2012 is a year of celebration of the 400th anniversary of the discovery of the small wooden statue of Out Lady of Charity of Cobre which has always been a major focus for prayer and devotion in Cuba and a symbol of the Catholic faith long deeply rooted there.
 
      But in the last years of the wildly popular - in fact, greatly beloved - Blessed John Paul II, the Cuban government was obviously impatient to bury the hatchet with the Vatican.  Fidel Castro seemed anxious  -  as did the state of Israel, at that time, when the 21st century was knocking at the door - that Blessed John Paul II, who travelled everywhere, and was often wildly applauded, should not seem to be exceptionally unfriendly  toward Communist Cuba.
 
     To be snubbed by the most intelligent and the most popular modern Pope would have seemed a major disaster, in the eyes of Havana -  or Tel Aviv.  
 
      In 1998 Blessed Pope John Paul II agreed to make a formal visit to Havana which amounted to a reconciliatiion, of some sort, with the Cuban nation and its Communist ruler.  As a restoration of normal courtesies, before John Paul II travelled to Cuba, Christmas was formally reinstated as a natiional holiday in that country.
 
      Fidel Castro was considered to have been personally excommunicated by Blessed Pope John XXIII in 1962.
 
      Fidel Castro had an audience with Benedict XVI when he paid his important visit to Cuba on the weekend. Both octoganerians, Fidel broke the ice by asking Benedict: "so what does a Pope do?"
 Fidel's younger brother Raul, now the head of state, also met with the German pontiff during his sojourn on the island.
  On the weekend of March 18, a prominent Catholic group of women well known for their demonstrations  on behalf of political prisoners in Cuba  - Las Damas de Bianco  (the Ladies in White) - marched publicly once again, at the church of Santa Rita on Havana's Fifth Avenue-   but 70 of the ladies were arrested.  Their leader, Berta Soler, told journalists that many of them were beaten before they were released.  
  On Sunday,  March 25, the Ladies in White marched again at the church of Santa Rita. - But this time they did so in front of  the world's news media.
 
       And they were not arrested.
 jp-fc