China's Qu Dongyu takes over reins at FAO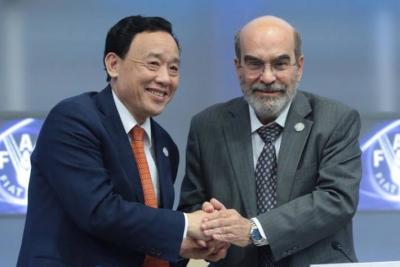 ROME – The new Director-General of the UN Food and Agriculture Organization (FAO) has vowed to make the agency more dynamic, transparent and inclusive.
 China's Qu Dongyu, who Thursday officially took over the reins from outgoing chief Jose Graziano da Silva, acknowledged his predecessor at Wednesday's handover ceremony for "contributing substantially to the success of the agency."
 The first Chinese national to head the organisation since its inception in 1945, Qu Dongyu thanked Graziano da Silva for "the smooth transition process," which he described as a "new culture for FAO." 
 "I intend to work for a FAO that applies modern science and technology, and adopts innovative approaches," Qu Dongyu said outlining some of his future aims.
 "My goal is to make this organization more dynamic, transparent and inclusive in the coming four years."
 Qu also highlighted the need for establishing dialogue, building trust, increasing efficiency and focussing on accountability.
 cc