Pellegrini and Paltrinieri win historic swimming golds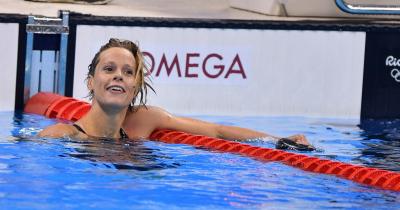 Federica Pellegrini (Photo credit: Il Fatto Quotidiano)
GWANGJU, South Korea – It was more triumph for Italy Wednesday at this year's World Aquatics Championships, as Federica Pellegrini cemented her place among the all-time greats of Italian sports, winning in the 200 metre freestyle, and Gregorio Paltrinieri dominated the 800 metre freestyle.
 Separated by just a few minutes, the double-triumph builds on remarkable Blue success this year. Young Simona Quadarella, 20, broke a decade-long Italian record earlier in the week and won gold in the 1500 metre freestyle.
 Pellegrini, who will soon be 31, collected her eighth medal in the 200 metre freestyle event, setting a new record. The Venetian's victory, in a time of 1:54:22, represented her sixth world title but it is the end of the road as far as her athletic career is concerned, she said.
 Appearing emotional before Rai journalists, "I still don't believe it, because in the water I did what I wanted and felt how I wanted… the work we're doing together pays off as much as ever. This is my last world championship. I'm crying not out of sadness but happiness."
 Paltrinieri, at the other end of his career, set a new European record with a time of 7:39:27. At just 24, the reigning 1,500 metre world and Olympic champion surprised some with such a strong performance in race which is not his speciality. The victory represents his third world title, the other two coming in 1500 metre freestyle.
 "I am delighted, it was a good race," he said to RaiSport. "I tried to find a good rhythm, I was always ahead and that gave me hope… It has been four years since I swam well in an 800 [metre race], I always felt that I didn't feel well."
 The golds of Quadarella, Pellegrini and Paltrinieri mean Italy has matched its success at Budapest in 2017, which marked the second time Italy had reached that tally of gold medals. The first time was in 2009, when the championships were held in Rome and Pellegrini triumphed, taking two of the three golds for her country.
gb