Salvini welcomes 'dangerous' incoming PM Johnson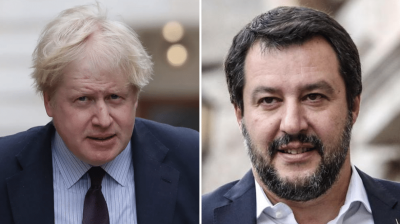 Incoming PM Boris Johnson and Deputy PM Matteo Salvini. Photo credit: TPI News
ROME – Deputy Prime Minister Matteo Salvini was one of many leaders to congratulate Boris Johnson, who is set to become the UK's prime minister later today as Theresa May resigns.
 The League strongman took to Twitter to underline the shared stance between Johnson and the nationalist and populist League.  "Good work Boris Johnson," Salvini tweeted. "The fact that the left portrays him as 'more dangerous than the League' makes him even more likeable to me."
 Ex Labour prime minister Tony Blair had told La Repubblica in an interview that Johnson would be more dangerous as prime minister that the far-right League which has been in power since 2018.
 "Trump's words very often do not correspond to the facts and look at Salvini, he complained so much against the euro, but then the harsh reality brought him back to Earth. Johnson's populism, in my opinion, is more dangerous than that of Trump or Salvini because it is focused on one thing, on Brexit," said Blair.
 Johnson has vowed to take the UK out of the European Union by October 23, whether there is a deal in place or not. Many experts think that an exit without a trade deal, which would result in EU-UK trade taking place on World Trade Organisation terms with high tariffs, would be a disaster for the country.
 Other leaders also congratulated Johnson. Premier Giuseppe Conte tweeted "Best wishes to Boris Johnson! We'll work together in a constructive way to guarantee an orderly Brexit and ensure the prosperity of all European citizens."
 Chief Brexit negotiator for the EU Michel Barnier said he is looking forward to "working constructively" with Johnson after he takes office to ratify the Withdrawal Agreement negotiated by May and to "achieve an orderly Brexit."
 President Donald Trump was also quick to congratulate Johnson. "They call him Britain Trump," he said. "And people are saying that's a good thing. They like me over there. That's what they wanted. That's what they need." Thousands of Londoners took to the streets to protest against Trump when he visited the UK in June.
 Johnson is predicted to struggle in office, with a majority in the House of Commons of just two and no mandate from the public. Johnson won a landslide victory among members of the Conservative Party, winning 66 per cent of the vote over rival Jeremy Hunt, but this represents just 0.13 per cent of the UK population.
 It was the first time a party membership has directly elected a prime minister in Britain. Conservative party membership has fallen steadily in recent years, with around 180,000 members as of July 2019. These are in the majority white men from the south of England.
gb