Quadarella, 20, takes swimming world title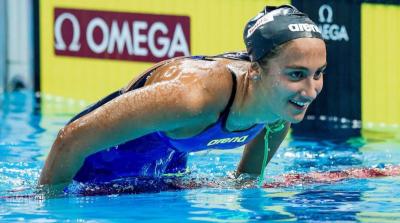 Italy's Simona Quadarella
GWANGJU, South Korea – Italy's Simona Quadarella won gold in the women's 1500 metres freestyle at the world aquatics championships in Gwangju, South Korea, breaking the Italian record at just 20 years old.
 A tearful Quadarella appeared elated by her success: "I was hoping to win, I believed it. I want to go on for years, beyond the 2020 [Olympic] games," she told RAIsport shortly after the race.
 The new world champion broke the all-time Italian record, which has stood for a decade, with a time of 15:40.89. The old record was set in Rome by Alessai Filippi but the young Quadarella beat it by some four seconds. 
 Coming in ahead of Germany's Sarah Kohler and China's Jianjiahe Wang, Italy's new star had a little luck as American swimmer Katie Ledecky, current world champion and world record holder, had to withdraw after falling ill.
 "I found out about the absence of Ledecky this morning after training," Quadarella said. "I told myself, this is an opportunity. I was lucky but fortune follows those who work for it, because after her it was me."
 Quadarella broke onto the world stage aged 19, wining nine medals in the two-year period 2017 to 2018. But this was her first world title.
 And turning to her bright future, "These were two fantastic years, after the bronze at [the World Aquatics Championships in] Budapest in 2017 and the three golds at [the European Championships in] Glasgow," she said. "We hope to continue for years, not only next year when the Olympics will take place. Every race I win I enjoy more and more."
 Elsewhere Italy had further triumphs, with Martina Carraro taking bronze in the 100 metre breaststroke and the men's water polo team beating Greece 7-6 to reach the semifinals.  
gb