Scouts gather to celebrate Europe's 'Christian legacy'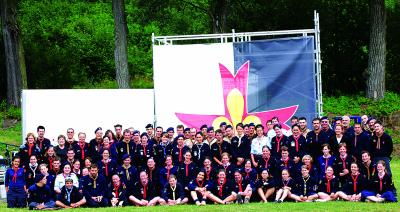 ROME – Thousands of "Rangers and Rovers" of the Scout organisation (boys and girls between 16 and 21) will come to Italy July 27 to August 3 in one of their biggest international gatherings of the year which will culminate in an audience with Pope Francis, according to an organisation spokesman.
 The so-called Euromoot will bring together some 5000 young members of the UIGSE-FSE (Union Internationale des Guides et Scouts d'Europe – Fédération du Scoutisme Européen). After walking along historically significant routes in smaller groups, they will gather in four points at the entrance of the Eternal City in groups of around 1200 before all coming together in Saint-Peter's Basilica on August 3.
 Organisers hope that, by bringing young people from diverse backgrounds together, they will "discover that the true European legacy is the capacity to live together in peace and brotherhood around a common aim, Christ," according to a press release from the organisation.
 With this "rediscovery of the Christian cultural legacy" in mind, the scouts will travel along routes once traversed by Saint Benedict, Saint Francis, Saint Paul, Saint Cyril and Saint Francis of Assisi.
 The audience with Pope Francis will take place in the Aula Nervi. It marks 25 years since the last such audience, then with Pope Saint John Paul II. Finally, mass will be celebrated in Saint Peter's Basilica, presided over by His Eminence Cardinal Bagnasco, to mark the end of the Euromoot.
gb