Beloved Montalbano author Andrea Camilleri dies at 93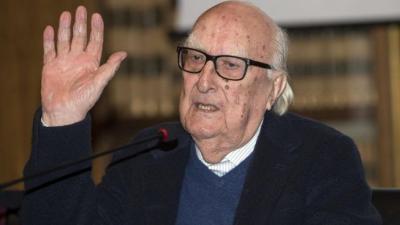 Andrea Camilleri, 1925-2019. Photo credit: Leccenews
ROME – The renowned writer Andrea Camilleri died Wednesday morning aged 93 after a month on life-support at the Santo Spirito, according to hospital sources. The author of the popular detective books based around Sicilian detective Inspector Montalbano, Mr Camilleri suffered a heart-attack on June 17.
 "The ever-critical conditions [of Mr Camilleri] in these days have worsened in the last hours, compromising his vital functions," read a brief statement from the hospital. "A per the will of the master and his family, the funeral will be private. It will be made known where to pay last respects."
 Camilleri was born in 1925 in Porto Empedocle in Sicily. He spent much of his career working on television and stage productions as a screenwriter and director. From 1977, he held the chair of Film Director at the Academy of Dramatic Arts, but his first two novels, written in 1978 and 1980 respectively, failed to capture significant attention or commercial success.
 It was not until 1992 with his first bestselling novel "The Hunting Season," after a break of some 12 years, that Camilleri began to find the fame that his later years would bring. In 1994, aged 69, he published the first of the Monalbano series for which he became so well-known, "The Shape of Water."
 The series captured the popular imagination, combining thrilling detective stories with vivid characters like Montalbano himself, a Sicilian detective working in the imaginary town of Vigàta. In fact, the books became so popular that Camilleri's home town was renamed Porto Empedocle Vigàta in 2003. The exploration of the world of organised crime was clearly something which appealed to many readers.
 Around 10 million of his novels have been sold and the Montalbano series adapted to television and radio, including RAI's spin-off, The Young Montalbano.
 Later in life, Camilleri also became a well-known figure in Italy beyond his books, appearing frequently on television to discuss contemporary issues with his characteristic vigour but good-natured air. Never afraid to speak his mind, he became one of the most reliable media presences calmly calling for decency and equality in his famous gravelly voice.
 "I do not fear death…it is unavoidable," he told Massimo Giannini and Jean Paul Bellotto in an interview in June, just a few days before his heart attack. He told them he had no regrets about his "fortunate life," spent doing what he loved.
gb