Weapons seized from far-right across northern Italy
Police crackdown on far-right terrorists in Turin. Photo credit: Il Fatto Quotidiano
ROME – Weapons belonging to far-right groups in cities across the north of Italy have been seized by police in their latest anti-terrorism crackdown. Three arrests were made, including of a former customs officer who once stood as a candidate for Forza Nuova, according to Il Messaggero.
 The impressive arsenal included an air-to-air missile (AAM), a type of projectile usually fired from one aircraft at another, as well as modern assault rifles, pistols and ammunition.
 Among those arrested was Fabio del Bergiolo, an ex anti-fraud customs inspector who was a candidate for the Senate for Forza Nuova in 2001. At his home in Gallerate, Austrian, German and American weapons were uncovered, as well as Nazi symbols and coats of arms.
 Two other individuals are also in custody: a 42-year-old Swiss citizen, Alessandro Michele Aloise Monti, and a 51-year-old Italian, Fabio Amalio Bernardi. They were stopped near Flori airport and are accused of intending to sell the air-to-air missile to the Qatari army.
 The operation, organised by Turin police, was originally into Italians involved in the so-called Donbass war in Ukraine and targets extremist, far-right groups. The Donbass war is the armed conflict between pro-Russia separatist movements and the Ukrainian government which began in the lead up to the annexation of Crimea by Russia in 2014 and is ongoing.
The large operation sees collaboration between the forces of the law in Milan, Varese, Pavia, Novara and Forli. "This is a complex operation, with the seizure of weapons of war with few precedents for the police who work in this area" said quaestor of Turin Giuseppe De Matteis.
 Turin police have targeted far-right extremists in recent weeks. Most recently, their raids on July 9 led to the arrest of the 28-year-old leader of the Legio Subalpina, Fabio Carlo D'Allio. More Nazi symbols, as well as knives, brass knuckles, a machete, batons and even toy guns were seized by police on that occasion. D'Allio has a history of robbery, fighting, possession of arms and attendance at fascist demonstrations.
gb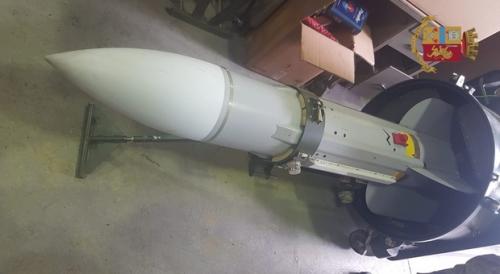 AAM weapon. Photo credit: Il Messaggero