Chinese entrant takes top honour in Trieste fashion comp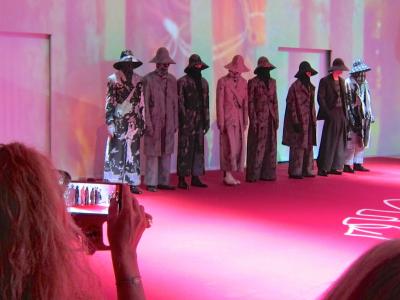 Chinese rising fashion star Daoyuan Ding's winning collection
TRIESTE - A Chinese finalist who was set to pull out of a fashion design contest in Trieste one month before the awards ceremony, has taken two gongs including top honours and a 15,000 euro cash prize.
 When rising fashion star Daoyuan Ding from Zhoushan City, China, picked up his first award Friday in the 2019 International Talent Support (ITS) design competition, he immediately felt vindicated in his decision to see the competition through. After all, the Tomorrow Entrepreneurial Creativity Award secured him a space to exhibit his collection at the Tomorrow Le Palais Showroom in Paris. 
 "I'm very excited and I think it's the biggest surprise for me this year," Mr Ding said.
 Little did he know an even bigger surprise awaited. 
 The 28-year-old was named as winner of the coveted ITS Award by Allianz earning him a cash prize of 15,000 euros; a 12-month mentorship with Pitti Immagine and the opportunity to showcase his collection in Florence in January 2020. 
 As he accepted the top award, competition founder and director Barbara Franchin told press and invited guests the young designer had one month earlier contacted her to withdraw from the contest.
 "I couldn't afford the flight ticket, it [was] over 10,000 pounds," Mr Ding said. "And I had to buy extra luggage [for the fashion collection] so in total it would be a huge amount of money." 
 Ms Franchin urged him to continue via a long impassioned email plea that touched the young designer, inspiring him to go to extra lengths to raise the money.  
 And he's glad he did. 
 "I think I made the right decision," he said.
  Mr Ding's winning collection of dark loose men's suits in shades of black, grey and brown, features a houndstooth print in varying sizes. Matching gloves and broad-brimmed hats with neck warmers partially masking faces complete the look.
 Also taking out two awards – Special Mention by Vogue Talents and ITS Sustainability – is American jewellery designer Corrina Goutos, whose work is underpinned by sustainable principles. Incorporating trash, such as old cigarette lighters and cans, she trasforms these "fossils of the future," handcrafting them into wearable art.
 "My whole life has been inspired by limitations, when I saw as a young kid ... the issues our planet will face, it became my life mission," she said. "The last thing I would have expected is that my principal statement in life would be so well accepted in the fashion industry … it's really incredible, it just continues to give me this optimism about the future."
 Australian Annaliese Griffith-Jones won the OTB (Only The Brave) Award, which comes with a cash prize of 10,000 euros and an internship in the design office of one of the fashion group's brands, among which are Diesel, Marni, Maison Margiela and Viktor & Rolf.
 "I'm a huge fan of Marni," said Ms Griffith-Jones, whose colourful bold designs are inspired by feelings of nostalgia for her home country after relocating to America. 
 "When I moved to New York I became enamoured with my grandparents' house and all these memories of filtered amber light, floral tiles and the brown velvet lounges," she said. "And I had this really strong connection to it and it only really developed when I left [Australia]."
 Other award winners include Swiss fashion designer Rafael Kouto (Diesel and Lotto Sport awards), Brit designer Moon Hussein (CNMI and Coin Excelsior awards) and Chinese emerging talent Jiaen Cai (ITS Fashion@work by Illy Award).
 cc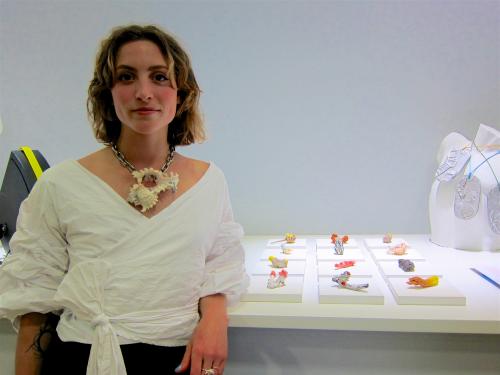 American jewellery designer Corrina Goutos showcases her sustainable jewellery creations
Australian Annaliese Griffith-Jones' fashion collection is inspired by feelings of nostalgia for her home country