'Anti-migrant sheriff' given cabinet role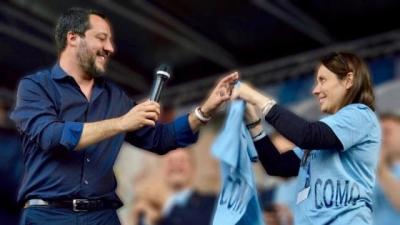 Deputy PM Matteo Salvini and Locatelli. Photo credit: Facebook
ROME – The League's Alessandra Locatelli has been made Family and Disabilities Minister, replacing Lorenzo Fontana who is the new Europe Minister, according to government sources. She has been labelled by some as the "Sheriff" for her far-right stances on migrants, the homeless and even the President of the Republic Sergio Mattarella, according to La Repubblica. 
 Locatelli, 42, who has been deputy mayor of Como since 2017, is a controversial figure to many, despite having elected a Deputy only last year.
 In her first year as a parliamentarian she supported the campaigns of fellow League members Paolo Grimoldi and Eugenio Zoffili to remove photos of President Mattarella from the municipal offices of Como.
 She also refused to support the donation of food to the homeless of her city, and last April declared during Ramadan that there was "No space for those who do not conform to our principles."
 Her Facebook page since her arrival in parliament consists largely of posts against migrants, NGOs and Carola Rackete, the captain of migrant-rescue ship Sea Watch 3. 
 The mini-reshuffle was welcomed by Prime Minister Giuseppe Conte and signed off by Mattarella. Locatelli was sworn-in Wednesday.
gb