More cruise ship controversy, near miss in La Serenissima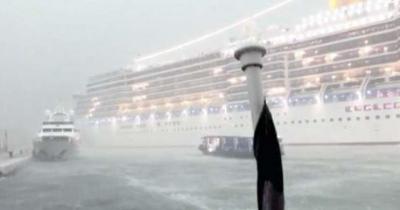 The Costa Deliziosa in stormy conditions (Photo: Nextquotidiano)
VENICE – In the most recent in a string of incidents in the Lagoon City, a serious accident was narrowly avoided when a cruise ship lost control during adverse weather conditions and only just missed careering into the quay near San Marco, reported Il Fatto Quotidiano.
 The Costa Deliziosa, owned by Costa Cruises, was being guided out of the harbour by tugboats when it was blown off course. The captain raised the emergency alarm as panic arose among those on shore and on nearby vessels. Crew members of a yacht which was narrowly missed threw themselves on the ground in an effort to remain safe, according to a security guard who witnessed the events.
 In response, the president of the port authority Piero Musolino announced that there would be a "verification of permits." Costa Cruises, on the other hand, denied there was a problem: "[Costa Deliziosa] was assisted by tugs and they never lost control of the ship."
 On June 2, there was a collision in the Giudecca canal between a cruise ship, the 13-deck MSC Opera which experienced an engine failure, and a tourist boat, the River Countess. Five people were hurt in the accident, which led to Mayor Luigi Brugnaro calling for an end to cruise ships in the Giudecca.
  Regarding the most recent near-miss, Alberto Peratoner, a professor at the University of Padua who was on the yacht which was nearly hit, said: "We saw [the Costa Deliziosa] coming almost on top of us. It was at the most fierce moment of the storm… We suddenly heard the loud and prolonged noise from the Costa Deliziosa and a moment later saw her lights, in the middle of the darkness."
 "She was in obvious difficulty and was veering towards Riva San Biagio, turning slightly towards Riva dei Sette Martiri. At Riva San Biagio, the bow tug (which seemed to me the only one) move desperately to starboard of the ship and tried to pull it, with maximum power, to the right and keep it from the shore. Gradually, the ship managed to turn and re-align its course," he went on.
gb