St Nicholas, no relics for Putin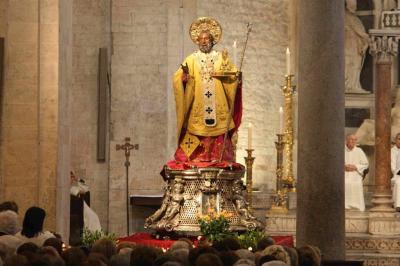 ROME – President Vladimir Putin managed to squeeze in a catch up with long-time friend and former Prime Minister Silvio Berlusconi on his lightning trip to Rome but his desire to take home a relic of St Nicholas, one of the most revered figures in the Russian Orthodox Church was left unfulfilled.
 Two years ago, the Catholic Church sent the bones of St Nicholas to Russia on loan. The result of an historic meeting between Pope Francis and head of the Russian Orthodox Church, Patriarch Krilli, in Cuba in 2016, it was the first time in nearly 1,000 years the bone fragments had been moved from Italy.
 At the time, Mr Putin described the occasion as "a big event for Orthodox Christian believers," thanked Pope Francis for accommodating the request and acknowledged the important role of the Church in "building bridges between peoples."
 Since then, a silent tug-of-war has been playing out behind the scenes in what is said so far to be a futile attempt to obtain a promise to allow a tibia, the cranium or a femur of the saint to make its way to Moscow. Not an easy task. After all, the Bishops of Apuglia, who are keen to remain custodians of the miraculous saint, are also keen to preserve the miraculous benefit to the economy. 
 In his initial plans Mr Putin had wished to visit L'Aquila or Bari to pay homage to St. Nicholas as he had done before, but on this occasion a demanding program didn't allow. 
 But observers say the Kremlin leader may wait a long time to bring a fragment of the revered saint home to Patriarch Krilli.
 cc