Migrant ship standoff, Salvini maintains 'heartless stance'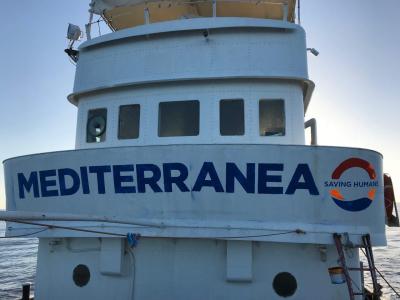 ROME - The Italian government has banned a ship that has rescued 54 migrants from a rubber dinghy in distress 12 miles off the coast of Lampedusa, from approaching the island. However Malta has offered a place to dock but the crew aboard the Alex ship of NGO Mediterranea Saving Humans said the migrants were unable to make the trip from Libyan to Maltese waters.
 During a political stoush Interior Minister Matteo Slavini spoke of "an act of piracy" should the NGO Mediterranea refuse Malta's offer. But while Valletta has authorized the ship to dock at the Maltese port, the crew said the crossing from Lampedusa is impractical due to the condition of some passengers and the type of boat, which is equipped for first aid, not for search and rescue activities.
 "For the psychophysical condition of the people on board and the characteristics of the ship, we are not able to take on the journey to Malta," a crewmember aboard the Alex ship said. "But we are willing to transfer the migrants to Maltese patrol boats or the Italian Coast Guard." 
 Maltese authorities have released a statement saying their offer was part of an initiative promoting "a European spirit of co-operation and good will between Malta and Italy."  
 "Following contact between the Maltese and Italian governments, it has been decided that Malta will transfer 55 migrants, who were saved off the coast of Tunisia and are on board the Alex ship, to a ship of the Maltese armed forces and they would be welcome in Malta," the statement said. In exchange, it stipulates that Italy would take 55 migrants from Malta. 
But Mediterranea spokeswoman Alessandra Sciurba said the conditions were not safe for the Alex to reach Malta because it requires around 11 hours of navigation. 
 "On board there are 54 people, including newborns and pregnant women, that's why we asked for help from Malta and Italy to transfer people," she said.  "We pointed out to Malta that we could not get there with this boat. Therefore, we ask that they come to our aid for the transfer."
 Mr Salvini has described as piracy the crew's reluctance to make the Malta journey.
 "Incredibly, the NGO is refusing to go to Malta, a safe European country!" he said. "At the moment they are stopped, flanked by a Spanish NGO, seeing as we delivered the ban on entry into Italian waters. If they do not head towards Malta, it is clear that it will be the umpteenth act of disobedience, violence and piracy: I will not give in!"
 cc