Putin visit to Rome, 30 armoured cars and a taste tester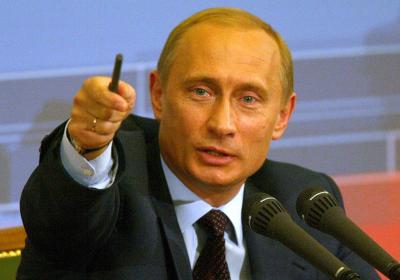 ROME – It is said that Vladamir Putin does not eat any food that has not been carefully checked. Not just to verify quality but also to make sure it has not been poisoned. Ahead of his Rome visit, the Kremlin leader is leaving nothing to chance – his presidential limousine has already tested access to Palazzo Chigi and his security detail includes 30 armoured vehicles and a taste tester, according to La Repubblica.
 Mr Putin is expected to land at Fiumicino airport shortly after midday on July 4, aboard an Ilyushin 96-300PU worth 70 million euros, probably accompanied by other escort aircraft and cargo planes carrying cars and telecommunications tools. 
 The Russian president will spend time with Pope Francis, Italian President Sergio Mattarella, Prime Minister Giuseppe Conte and his deputies, Luigi Di Maio and Matteo Salvini.
 His one-day visit will last just 10 hours but the centre of Rome will be heavily guarded with traffic prohibited in a "green zone" of 50 roads, including the streets around Palazzo Chigi, Palazzo Madama, and Via della Conciliazione near the Vatican.
 Events are prohibited, telephone communications will be screened, and airspace will be guarded by drones and helicopters. According to La Repubblica, a thousand agents will guard the safety of Mr Putin, including shooters posted on roofs and terraces, bomb disposal personnel and Special Forces in plain clothes. Heavy surveillance is expected in the Hotel St Regis area where presidential staff will be based and the president will be able to rest – should his demanding schedule allow.
 Mr Putin hasn't set foot in Italy since 2015 when he visited the Russian pavilion at Expo Milan in Rome. He has previously met the pope twice. His third meeting with Pope Francis is due to start at the Vatican at around 13:30, unless he experiences one of his famous delays. Four years ago he was an hour late, pointing the finger at traffic jams and "long negotiations" with then Prime Minister Matteo Renzi. 
 Following a meeting with Mr Mattarella at the Quirinale where the Russian flag will be hoisted, Mr Putin will hold talks with Mr Conte and in the late afternoon the pair will take part in the Italy-Russia Dialogue Forum at Farnesina, where they are expected to sign memorandums of understanding on culture and science.
 The Russian President's visit will end with a State dinner hosted by Mr Conte at Villa Madama. Deputy premiers Matteo Salvini and Luigi Di Maio will attend along with Foreign Minister Enzo Moavero Milanesi.
 Due to depart Rome at 22:00 it is unclear whether Mr Putin will squeeze in a meeting with long-time friend Silvio Berlusconi. In 2015, he met with the former Italian Prime Minister at the end of his official programme in the area reserved for heads of State at Fiumicino airport.
cc