Migrant rescue ship Seawatch docks at Lampedusa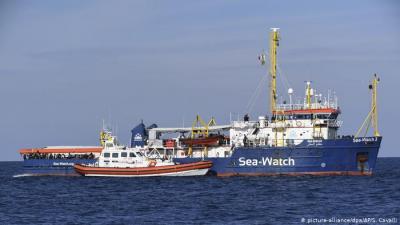 LAMPEDUSA, Sicily -- The migrant-rescue ship Seawatch has docked illegally at the Italian island of Lampedusa, ending a three-day stand-off in which the vessel was anchored outside the harbour, witnesses said. Finance police immediately arrested the ship's German captain, Carola Rackete, and took her to a barracks.
 The ship, which belongs to a German NGO, forced its way into the harbour despite attempts to block it by the police. Narrowly avoiding an accident, Sea Watch docked around 1 a.m., bringing an end to a voyage which has lasted over two weeks. Sea Watch was denied the right to dock in Italy and so remained at sea.
 The 40 odd migrants on-board disembarked this morning, witnesses said. Six countries have said they are willing to take the migrants, who were rescued from sinking dinghies off the coast of Libya. These countries are France, Germany, Malta, Portugal, Romania and Luxembourg.  
  Reactions to the ships arrival in the harbour were mixed. Supporters of the Sea Watch mission shouted their support. Some Lampedusans on the other hand were led in rejecting the migrants by former deputy mayor Angela Maraventano.
 "You can't come to do whatever you want," they shouted at the migrants, according to local sources. The League's representative, former mayor Giusi Nicolini, was also present on the pier and said: "What do you want? Who are you to decide who should come [to Italy] and who should not."
 Interior minister Matteo Salvini had repeatedly refused permission for Seawatch to dock at an Italian port.
 Captain Rackete may now face criminal charges and between three and 10 years in prison. Italy's new Security Decree makes it much harder for migrants to enter Italy, and dictates very harsh penalties on those who help them illegally.
 Ms Rackete was released after seven hours and will be under house arrest until a preliminary trial is held, according to her lawyer who described her as "stressed" after the drama. 
 jp-gb