FAO honchos rejoice over Chinese takeaway victory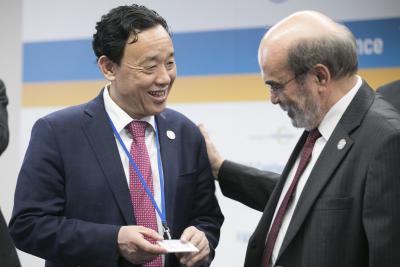 Hands on: Outgoing DG Graziano da Silva gives Chinese successor Qu Dongyu a pat
ROME -- The FAO's unctuous Uruguayan staff captain congratulated himself Friday on a "highly successful election process" won by China, announcing the UN agency would celebrate in time honoured fashion by creating yet another committee to produce red tape during the transition from the Brazilian regime.
 "Dear Colleagues" Mario Lubetkin wrote in the memo, seen by the Insider, "Following a highly successful election process, last Sunday, Mr Qu Dongyu of China was elected to be the next Director-General."
 Conveniently ignoring glaring irregularities in the electoral process such as the failure to webcast candidate presentations, Lubokid continued claiming pompously that "The Organization presented itself as an example to be followed in holding an inter-governmental democratic process of global relevance. All our colleagues, who contributed to this event deserve our gratitude for the professionalism they demonstrated and a job well done."
 He made no mention of persistent reports of bias in favour of China by DG José Graziano da Silva and his cronies, for instance in turning a blind eye to the payments to debt-ridden countries such as Cameroon made by Beijing to procure votes.
 Lubokid smugly continued "Now that the election phase is completed, I would like to update you on the next phase in the framework of an orderly and smooth transition." "On Monday the Director-General, the DG Elect and their respective teams met and agreed on the necessary steps to ensure maximum coordination in the coming weeks. At this meeting, a task force was created, which is responsible for ensuring a methodical and structured sharing of all necessary information with the team of the DG Elect."
 "This Task Force began its work on Monday afternoon and a series of successful meetings have already been held. As per the Director-General's guidance, the Cabinet will continue to take all necessary action to coordinate a successful transition."
 Lubetkin did not say when Graziano will leave his desk in the former Italian colonies ministry. There have been persistent reports the Brazilian honcho has negotiated a deal with Beijing to stay on as a consultant at FAO, effectively pulling the strings while the new DG goes on his travels to practise his pidgin English.