Italian women vanquish China, quarter-finals await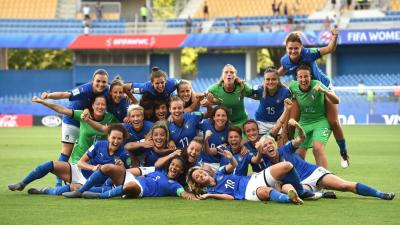 Le Azzurre. Photo credit: Eurosport
ROME – Italy's women dispatched a disciplined Chinese side 2-0 to burst into the last 8 in the women's World Cup in France. For head coach Milena Bertolini, it is all part of their "mission" to help Italy "discover and appreciate the women's game."
 An offside goal didn't put off striker Valentina Giacinti who converted again with an opportunistic goal after just 15 minutes of play. Giacinti, who was named FIFA's player of the match, was first to a loose ball off a blocked shot from teammate Eliza Bartoli after a beautiful build-up.
 China did their best to take control of the game afterwards, geared into action by some fine saves from goalkeeper Peng Shimeng. Though they too forced some very good saves from Italian goalkeeper Laura Giuliani, the Chinese forwards never convincingly managed to penetrate the formidable Italian defensive wall.
 It was Aurora Galli, once again, who came off the bench to score. Her long-range strike from outside the area fizzled into the bottom left-hand corner and provided a cushion the Chinese couldn't overcome. Galli has scored twice already as a substitute in this World Cup, equaling the 2007 record set by Australia's Lisa de Vanna.
 Bertolini was eager to draw the victory back to the wider message of the campaign for women's football. ""We really believe this side has allowed the women's game to break new ground back home. We can see that from the viewing figures, what we see in the press and from the messages we receive."
 She explained, addressing the status of women's football in Italy: "I know cultural changes take a lot of time, but this team are able to break down some of those prejudices and they are enacting change and that's their mission."
 Chinese head coach Jia Xiuquan apologised to fans for failing to live up to their hopes. "We've done a good job but we need to do much better."            
 Next weekend in Valenciennes Le Azzurre will face the Netherlands, who scraped into the quarter finals 2-1 with a 90th minute penalty against Japan, successfully converted by Lieke Marten. A victory in this game would mark the best performance ever for the Italian ladies on the international stage.
gb
Valentina Giacinti celebrates. Photo credit: tellerreport