Repubblica metro reopens, Barberini still shut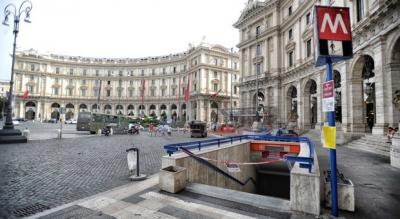 Repubblica metro station. Photo credit: Il Messaggero
ROME – The Repubblica metro station finally reopened Wednesday afternoon. It had been shut for over eight months because of problems with its escalators, setting something of a trend in the central Rome metro as Spagna and Barberini followed suit. 
 The station on line A was closed on October 23. It has remained shut to the public for 246 days, since an accident injured some 24 CSKA Moscow fans when an escalator collapsed. In the interim period, transport authorities have managed to get four of the six escalators working again.
 Notwithstanding commuters and travelers, economic damage to the local area has been significant. Businesses nearby have had 50% less turnover, while the cost of the closure was an estimated 20 million euros in April, according to La Corriere della Sera.
 The Eternal City's mayor Virginia Raggi tweeted: "We apologise for the inconvenience that citizens and businesses have had to face in recent months due to extraordinary maintenance work."
 Spagna only recently reopened after six weeks of closure, and Barberini remains shut, having ceased operating on March 21.
gb