Interview: Italian football set to become an investor's haven
With the arrival of world stars such as Cristiano Ronaldo to the Serie A, the league's profile is likely to only attract further interest
ROME - Italian football looks set to become the new European home for foreign investors as improved television rights look set to make return on investments for shareholders more lucrative than ever, a leading financial expert in the industry has said.
 Speaking to the Italian Insider in an interview, Dr Roberto Ciccioli, a Partner of The Consulting Centre who acts as an advisor for investors and clubs across Italy and England's top divisions, voiced his optimism for the financial future of Italy's leagues. From his inside view on the world of footballing financial, he sees foreign investment becoming increasingly tangible in Serie A and Serie B, and believes it will soon become a well-trodden path as further potential investors area lured away from elsewhere on the continent.
 The process, Dr Ciccioli warns, will take time, however. As it is, the Italian leagues simply cannot compete with their English counterparts when it comes to financial returns. This is particularly evident in the revenue generated by television rights, which currently makes up, on average, half the income of any given team in any of Europe's top leagues. The Serie A penned a three-year television rights deal worth 1.14 billion euros in 2018 that will take them through to 2021, each club receiving a fixed minimum of 28 million euros in rights per season, with clubs earning extra the more they feature. The Premier League, on the other hand, received circa 2.7 billion euros during the 2017-18 season alone, with each team receiving a minimum revenue of 90 million euros, over three times that of their Italian counterparts.
 To put this in perspective, 2017-18 Premier League champions Manchester City received over 165 million euros from television rights alone while their victorious Serie A counterparts Juventus managed only 86 million. In the same season, the bottom clubs of each league West Bromwich Albion and Frosinone took home 100 million euros and 36 million euros respectively.
 The difference is stark, and the result is that English clubs can usually pay their entire wage bills with revenue from television rights alone, freeing up any other income for the ownership to spend as they see fit. In other words, owners of Premier League clubs, provided their team is not demoted, are able to achieve return on investment rates unparalleled in other leagues simply by their team turning up to play every week. Italian teams, in contrast, struggle to turn revenue into profit.
 Further damaging Italy's investment appeal, Dr Ciccioli points to the fact that Italian clubs in lower leagues are even more financially squeezed than their Serie A counterparts as they rely more heavily on the inadequate television rights they receive as a primary source of income. In 2017, Palermo in Serie B, for example, took 35 million euros from television rights, 62.5 per cent of their total 56-million-euro revenue. In fact, Dr Ciccioli notes that clubs in England's second division, the Championship, are remunerated on average six times more than their Serie B counterparts from television rights alone. The latest broadcasting contracts were worth 120 million euros (English Championship) and 22 million euros (Serie B) per season respectively.
 What perhaps best shows this discrepancy is the case of the Pozzo family, who own both Watford and Udinese, two mid-table Premier League and Serie A teams with very different financial stories. In the same season with very similar results, Watford earned almost three times more than their sister-club from television rights: 127 million euros to 45 million euros.
 The issue is, furthermore, that this lack of television-generated revenue creates a vicious circle. Greater money attracts better players, who in turn provide a greater spectacle and are more widely watched by football fans. Clubs already rich from television rights are, consequently, rewarded further as they are televised more often. And better television exposure results, unsurprisingly, in larger pay cheques from sponsorship and merchandise deals.
 In simple terms, in 2019 the financial prospects of many Italian clubs are rather bleak. Juventus are the country's financial kingpins, and yet they receive less in revenue in terms of broadcasting rights than all of England's so-called top-6 (Manchester City, Manchester United, Liverpool, Chelsea, Arsenal, and Tottenham). Clubs smaller than Juventus simply don't hold a candle to their Premier League counterparts.
 Dr Ciccioli, however, is excited for what the Italian footballing future has in store and stresses that everything is not as bleak as the numbers would make out. While there is a long way to go, he sees plenty of encouraging signs and believes that the comparatively low value of Italian clubs in the current climate may well work in their favour.
 Citing the example of Fiorentina, which was bought at the start of June for a rumoured 171 million euros by Italo-American business magnate Rocco Commisso, Dr Ciccioli argues that Italian clubs are a real bargain for investors and a potential gold mine. "A Fiorentina equivalent in the Premier League would sell for over 500 million euros as the club has serious appeal," he posited. Fiorentina have very real prospects of European football in either the Europa or the Champions League, with a history steeped in success and a thriving local fan base.
 Commisso has, in other words, taken on a serious European competitor for a fraction of the price of an English equivalent and, provided he is able to make headway in the construction of a stadium and improving other assets such as training grounds and facilities, stands to make a terrific return on his relatively low cost investment.
 This is not a phenomenon limited to the Viola either. In Serie A, Inter Milan, AC Milan, Roma, Bologna and Parma are also held by foreign owners. With similar takeover deals looking likely for Sampdoria and Genoa, and foreign money starting to flow into the league, investment will likely lead to greater interest in the Serie A and more prospective investors will inevitably start to turn their attention towards Italy, if they haven't done so already.
 Regardless of current television deals, Italy is still a nation with huge worldwide appeal in the footballing world and big-name players will continue to grace its top teams. More often than not, homegrown stars will also continue to remain loyal to their country attempting to cement their names into Italian folklore, following in the path of players like Roma legends Daniele De Rossi and Francesco Totti. The continued proliferation of top names in Serie A will inevitably, then, have a very tangible effect on continued interest in the league. The arrival of five-time Ballon d'Or winner Cristiano Ronaldo in 2018 alone was a true publicity coup for the Serie A, and his popularity benefited teams beyond Juventus, who he signed for.
 Furthermore, Italy benefits too from being a significantly more competitive league than neighbouring nations such as the Ligue 1 in France or La Liga in Spain. Provided clubs can continue to improve their assets, continue to appeal to the stars of the sport, and barter improved broadcasting rights for all of the nation's divisions when their current contract expires in 2021, a date that draws ever nearer, Italian football will ensure that its entire business and financial prosperity are stabilised. There is plenty of room for growth to bring the leagues closer in line with their English counterparts.
 It may not seem like it now, but things are starting to look rather rosy for Italy's footballing world and the investment that is yet to come. 
 Dr Roberto Ciccioli is the Head of Tax and Advisory Services at the Consulting Centre in both Milan and Rome. He also works closely with a number of footballing clubs and players in Italy and across Europe. 
ea
Fiorentina became the latest Italian club to be taken over by foreign ownership when business magnate Rocco Comisso bought the club in June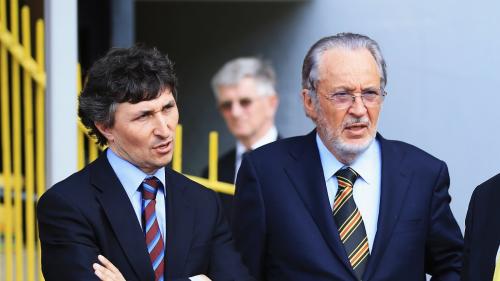 The Pozzo family own both Watford and Udinese, however their English outfit are worth substantially more than their Italian holding due to superior assets and broadcasting rights