Italian firm awarded Finnish inclusivity prize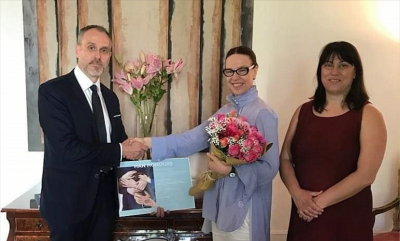 Ambassador Taalas giving the award to Pianoterra. Photo credit: Finnish Embassy
Rome – An Italian company has received one of the inaugural prizes handed out by Finland to groups or individuals deemed to be working towards equality in the world, a value esteemed by the Scandinavian nation.
 Pianoterra Association, a company aimed at helping mothers and their children and combatting health and developmental problems induced by poverty and social isolation, was among the first 16 recipients to be recognised for their commitment to advancing inclusivity in society. Through the competition, Finland aims to encourage conversation about equality and promote initiatives for a more inclusive society.
 Pianoterra received the recognition from the Ambassador of Finland to Italy, Janne Taalas, at his residence on 13th of June.
 Among other recipients of the recognition are individuals and groups from Singapore, Croatia, Namibia, Norway, Indonesia and Japan. They represent a range of fields, including education, minority rights and gender equality. The full list of the first recipients and more info about why they were selected are available at: https://finland.fi/han/#Han_honours.
 The recognition forms part of a broader campaign about equality, launched in June 2019 and continuing until the end of the year. Finland aims to bring questions of equality to the fore of the international conversation.
 In 2017, the year Finland celebrated the 100th anniversary of its independence, it promoted action around the world in the name of gender equality and launched the first International Gender Equality Prize. The prize was awarded for the second time later this year.
gn