Venice, Visa launch joint heritage preservation programme
Antony Cahill, Visa Managing Director for the European region (left), and Luigi Brugnaro, Mayor of Venice (right). Photo credit: Visa
VENICE – The municipality of Venice and the American multinational financial services corporation Visa launched Thursday a joint programme to encourage electronic payments and raise funds for the protection of the floating city.
 For the next three years, citizens and visitors using a Visa card for payments in Venice will automatically contribute to the "Visa for Venezia" (V4V) programme, under which Visa will donate the revenue generated by the increase in purchases with Visa card to a fund for the preservation and restoration of the artistic and historical heritage of the city, or to support community initiatives.
 "The V4V programme will give merchants another reason to further increase acceptance of digital payments," Visa Managing Director for the European region, Antony Cahill, said during the launching ceremony at the Ca' Farsetti Conference Room.
 "These merchants will be active contributors and champions of V4V by welcoming Visa payments, and they will be key influencers with visitors to the city by displaying the programme materials in their shop," he added.
 In addition to the automatic, free-of-charge donations made through Visa card usage, the municipality of Venice and the financial corporation have also made it possible for people to directly contribute to safeguarding the city. Residents and tourists will be able to find in different parts of Venice a number of digital totems through which four-dollar donations can be made by using any credit card. The first set of totems will be installed at the Civic Museums, La Fenice Theatre and the Salone Nautico, soon followed by others.
 People out of Venice willing to contribute to the three-year programme can still make an online donation through Visa Italy's website, on a page dedicated to V4V that be will put online in the upcoming days.
 Municipal Councillor for the Budget, Michele Zuin estimated that the programme will result in a direct donation of at least 300,000 euros, in addition to a percentage on transactions that is expected to reach around 50-70,000 euros in the first year.
 The programme, developed under the slogan "Help us preserve Venezia. Pay with Visa.", comes in line with Venice's #EnjoyRespectVenezia sustainable tourism awareness campaign. Luigi Brugnaro, Mayor of Venice, attended V4V's launching ceremony.
ms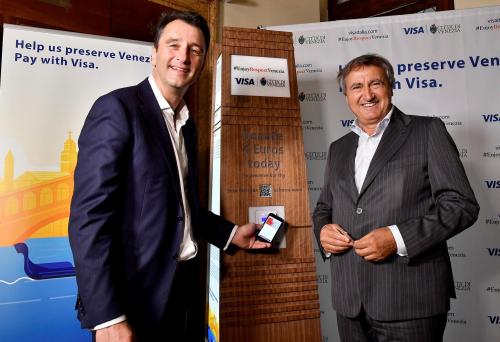 Residents and tourists will be able to find in different parts of Venice a number of digital totems through which four-dollar donations can be made by using any credit card. Photo credit: Visa