Lombardy battered by extreme weather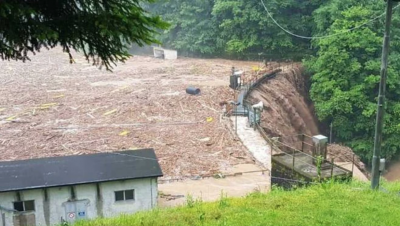 Water levels spilling over at the Pagnona Dam. Photo credit: Il Giorno
LECCO - Lombardy has been hit by a series of heavy rain, floods and landslides as severe weather has forced over 1,000 people in the region to evacuate their homes.
 Lecco has been the most severely hit city in the region after water levels in the nearby Pagnona reservoir rose dangerously above maximum capacity. Authorities feared the dam could fail to hold back the rising water or burst altogether and circa 800 residents were evacuated from the area. 
 Elsewhere, water levels in Lake Como rose, causing nearby roads to flood, and subsequently be closed to traffic altogether, and the river Po rose one metre in just 24 hours near Pavia, also raising alarm. Flooding also affected Premana, Primaluna and many of the areas valleys which have also suffered from mudslides. Reports of damaged infrastructure, property and crops have also surfaced.
 Interior Minister Matteo Salvini assured locals that "there is no alarm for civilians" despite the evacuative measures taken, while Pietro Foroni, the region's councillor for civil protection, said: "The meteorological situation is improving… and the procedure to ask the government to recognise a national state of emergency is underway."
ea