Court of Cassation cracks down on 'cannabis light'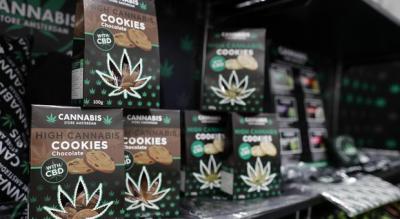 Photo credit: Il Messaggero
ROME - Italy's burgeoning 'cannabis light' business has been nipped in the bud by the Court of Cassation which has implemented a strict ban, with immediate effect, on marijuana products across the nation.
 The move, which follows the soaring number of 'cannabis light' stores in Rome and cities across Italy where over 1,000 such stores have opened in the past two years, sees a complete ban on resin, oils and inflorescences containing THC as well as cannabis sativa leaves. Selling such products has now been criminalised, and police have already begun to crack down on 'cannabis light' shop owners.
 Il Messaggeroreported that a shop owner in Avellino, Campania, had already had his products seized by the police and been denounced to the local judiciary within a matter of hours of the passing of the new law. Similar operations were also carried out in other locations in Campania, Reggio Calabria, and in Lazio.
 Italy's government last month came under fire when it was revealed by a number of newspapers that new allowances to its flagship Citizenship Income scheme meant that recipients would have been able to buy doses of cannabis with the state grant. The decision drew sharp criticism from society and governmental deputies alike, many of whom pointed out that marijuana represents an expenditure beyond what families on the income scheme are able to afford. The decision proved another point of contention between the League and the 5 Star Movement, although this recent ruling by the Court of Cassation will likely put the debate to bed.
 Shops selling products such as soaps, creams, biscuits, or sweets containing almost untraceable levels of THC will not be castigated. Medicinal marijuana will also continue to be available as a prescriptive drug that doctors can resort to for patients in severe pain.
ea