Hundreds of missiles leave Italy for Saudi Arabia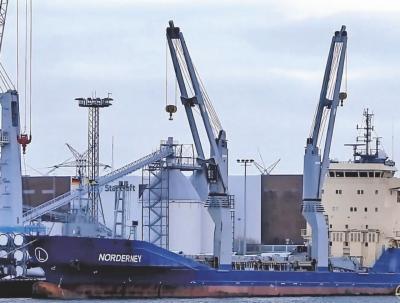 The arms were loaded onto the Norderney without workers being warned of the cargo they were dealing with. Photo credit: Il Fatto Quotidiano
TRIESTE - Hundreds of missiles destined to Saudi Arabia, likely to be used in the Yemen civil war, left Italy from the port of Monfalcone Wednesday, just ten days after port workers in Genoa refused to load the cargo on human rights grounds.
 As many as 370 bazookas and 415 Ukrainian missiles were sent by Bahri Bolloré Logistics, a joint French-Saudi venture, to the Arab state, although labour unions have since criticised the company, claiming that port workers were not informed of the content of the containers they were working with and were consequently unable to take the necessary safety precautions.
 Il Fatto Quotidianoreported that not only were workers unaware of the cargo, very few safety measures were put in place in case an accident did occur despite the hazardous nature of the shipment.
 "Italy's ports must not become a place for arms to be shipped, especially when they are closed to the victims of these very same weapons. We will ask [the relevant] institutions for an explanation because the safety of the workers was at risk too," said Laurent Pastor, a leader of the Italian Transport Federation and a protagonist of the strike at Genoa's port that saw a similar Saudi arms ship leave empty handed.
 The strike in Genoa's port came as the latest reaction to the Italian government's controversial relationship with Saudi Arabia. Italy is thought to have sold some 411 million euros worth of arms to the Middle Eastern nation since 2016 which are widely believed to have been used against civilians in Yemen. The 5 Star Movement are attempting to block future arms deals with Saudi Arabia.
 The passing of arms through Italy to the Middle East had already, in theory, been blocked but the incident at Monfalcone will likely raise questions about the government's commitment to this agreement.
ea