Neo-fascists' upper hand in Fiumicino graffiti wars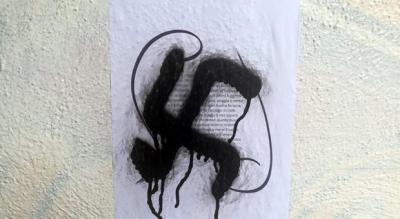 Photo credit: Il Messaggero
ROME -  Neo-fascists have once again gained the upper hand in a graffiti back-and-forth, covering the poetry that anonymous individuals had used to cover Nuova Forza messages in Fiumicino, reported Il Messaggero.
 Residents of the Roman town woke Wednesday to large black swastikas covering the white leaves and poetry that had been a collective effort to reject neo-fascist messages discovered the previous morning. The poetry displayed verses by, amongst, others, Giacomo Leopardi, William Shakespeare, Sandro Penna and Giuseppe Ungaretti.
 The latest spat of graffiti, as well as swastikas, also saw messages against mayor Esterino Montino, the long-time Democratic Party politician who was re-elected in 2018.
 Far-right group Nuova Forza recently garnered attention when they protested alongside CasaPound against Roma people in April, forcing them out of a homeless shelter. The riots took place in Rome's Torre Maura suburb and saw some 300 take to the streets to demonstrate.
gb