Sicily-British business is pre-Brexit focus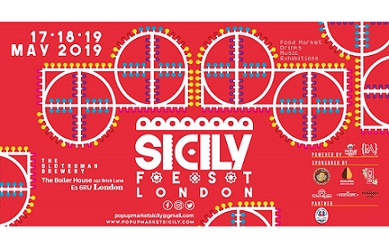 SicilyFEST in London, May 17-19
ROME – As Britain attempts to build trade relationships worldwide in preparation for its looming but ever uncertain departure from the European Union, Sicily is a key target market, according to the Milano Finanza. As such, a meeting in Palermo tomorrow will focus on strengthening these links for the future.
 Amongst those attending the "UK-Italy Business Conference" in Palermo will be British ambassador Jill Morris and Alessandro Albanese, the vice-president of Sicindustria, the Sicilian seat of Confindustria, the Italian Industrial Federation. Both sides are eager to promote a relationship that has obvious potential economic benefits for all, and the Confindustria has already held talks regarding the possibility of a privileged trade relationship.
 There are though, significant concerns about a "No Deal" Brexit, in which Britain fails to agree on a deal with the EU and has to leave on World Trade Organisation terms. This would mean the return of customs on goods entering the UK from EU countries. In particular, food imported from Sicily could be adversely affected. In the first nine months of last year, Sicilian goods imported into the UK were worth more than 163 million euros, which is up from the same period in 2017 (155 million euros). In comparison, in 2012 and 2013 the imports were worth respectively 316 million and 259 million.
 Meanwhile over the weekend London hosted the fifth SicilyFEST, a Sicilian-themes food and wine market in Brick Lane which celebrates and exhibits the best of Sicilian cuisine. Some 40,000 people visited, including Londoners and significant numbers of Italian ex-pats. Many will hope Sicily's cultural reputation in the UK, as well as the strong relationship between Britain and Italy through holidaymakers and expats, will form the basis of a trade partnership in the years to come.
 As all eyes turn to Theresa May's successor and the UK's Brexit policy (and perhaps more importantly its strategy), businesses and diplomats the world over must do their best to prepare for all eventualities.
gb