Libya a refuge for ISIS, warns UN envoy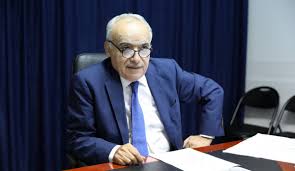 Ghassan Salamé. Photo credit: UN Missions
ROME – Libya is becoming a refuge for ISIS fighters taking advantage of the confusion caused by civil war, warned UN special representative Ghassan Salamé in an interview with La Stampa. He also warned of the threat to Europe, as Daesh fighters abandon Syria and Libya becomes "an attractive refuge" for them.
 Noting that Libya has already seen four attacks in less than two months, he explained: "Daesh [ISIS] is taking advantage of the war to occupy the vacuum created in the south [of Libya], but they probably have dormant cells in Tripoli and elsewhere."
 Salamé, a Lebanese academic based in Paris, spoke of growing problems across the country in a wide-ranging discussion Tuesday with Paolo Mastrolilli, including a possible rise in the number of refugees coming to Italy and what Italy's role could be diplomatically.
When asked about the estimated 100,000 migrants who are ready to cross to southern Italy, he had this to say: "I don't know how they've got to this figure, but I can tell you that rent prices in Tunisia are on the rise. This means that as they flee, people aren't waiting for quick end to the conflict."
 He was, though, keen to point out that the European focus on migrants and terrorism is misguided. There are some 800,000 non-Libyan refugees in the country and only a few thousand have tried to cross over to Europe. Those that have are "in detention centres… It's not true that every non-Libyan refugee dreams of Naples." He urged Europeans, instead of obsessing over immigration, to focus on establishing a legitimate government in Libya as the only way to solve the problem.
 When asked about Italy's involvement, he called for political resolution: "We are at the military stalemate, but we need to turn to a political process. Italy has many friends in Libya and can say to them that they need to make a truce." He called, moreover, for an enactment of the UN's resolution and for a public commitment to the arms embargo. "The arrival of new arms, in greater quantities and of better quality, gives all sides the illusion that they can win the war, and thus makes it even more difficult to reach a truce." The UN has imposed an arms embargo on the country since February 2011, though supply of arms to the Libyan National Transition Council is permitted.
 He linked this to the recentfailure of Prime Minister Giuseppe Conte to get Field Marshall Khalifa Haftar to agree to a ceasefire in a two-hour meeting between the men last Thursday. Salamé pointed out that no one wants peace while the illusory possibility of victory remains.
 The UN envoy has held a number of role within the organisation and was appointed Special Representative and Head of the United Nations Support Mission in Libya (UNSMIL) in 2017.
 Haftar is the powerful leader of the Libyan National Army who is loyal to the Libyan House of Representatives (HoR), the so-called "Tobruk government," who were controversially elected in 2014. Their rule is disputed by the General National Congress (GNC) in what turned into a second phase of the Libyan Civil War, ongoing since the Arab Spring in 2011.
gb