Leonardo 171 million to Kuwait agents in arms deal?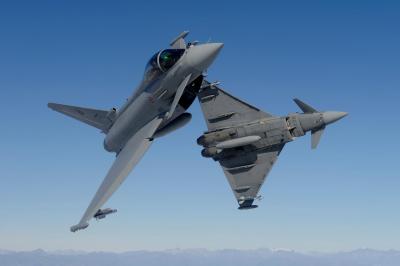 Eurofighter Typhoon jets. Photo credit: Leonardo
ROME – Leonardo, a defence-contractor which is partly government owned, paid 171 million euros in 2017 to unidentified intermediaries while selling Eurofighter jets to Kuwait, reported Il Fatto Quotidiano. Law 185 in Italy, which governs the sale of arms to foreign powers, allows the company to say nothing further on the identity or activity of the supposed brokers.
 When asked for transparency on the matter by Finanza Etica, an organisation devoted to ethical conduct in finance, the company was reticent and pointed to the law which gives them the right to remain silent. Though the government reports annually on what happens in arms sales, it is difficult from this report to get any real understanding of the dynamics underlying cases like this.
 In 2016, intermediaries were paid some 37.5 million euros. This climbed to 531 million euros in the following year – the same year Leonardo paid 171 million to the mysterious intermediaries – but fell again in 2018 to 39.8 million euros.
 Franceso Vignarca, from the Italian Rete Disarmo, said: "We don't understand who these intermediary payments went to, since the government is responsible for the negotiation of arms sales. In any case, we believe that on subjects such as this there should be no secrets."
 Leonardo has its headquarters in Rome but has 180 sites worldwide. It specialises in aerospace, defence and security, and the Italian Ministry of Economy and Finance holds a 30.2 per cent share in the government.
 Kuwait gets most of its arms from the US and is a member of the Saudi Arabia-led coalition which is involved in fighting in Yemen, where it has been accused of breaking international law. The coalition is trying to return to power the government which was overthrown in 2015.
gb