Mattarella receives Foreign Press journalists
President Mattarella meets ASEI President Patricia Thomas. Photo credit: Quirinale
Rome - The President of the Republic Sergio Mattarella, in keeping with custom, received members of the board of the Foreign Press Association in Italy (ASEI) at the Quirinale Palace on Tuesday.
 The delegates of the press were led by current ASEI President, the American journalist Patricia Thomas, who gave Mattarella an honorary member card for the association. The President, saying he was pleased with the thought, addressed the guests with words of appreciation for the important work that the foreign media correspondents do in disseminating Italian news and happenings across the world in various media formats. He also lauded the value and continued importance that a free and true press have in the current international scenario.
 Ms. Thomas told the President how the more than 400 correspondents, divided between the Rome and Milan offices, represent publications from more than 50 countries and she gave him a handful of ASEI's publications, the association this year celebrating its centenary. President Mattarella emphasized how important it is to report objective information, based on a line of serious professionalism. Finally, he thanked for the visit and the occasion of the exchange of views.
gn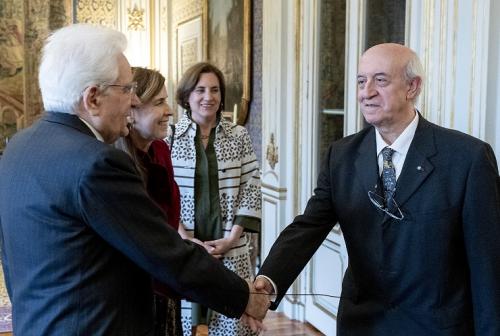 President Mattarella meets Insider journalist Gianfranco Nitti. Photo credit: Quirinale