Bahraini artists shine at the 2019 Venice Biennale
The Wait: Contemporary Bahraini Artists. Image: Marco di Niscia
VENICE – Tesa 113 is a bright, airy warehouse on the north side of La Serenissima's historic navy district, and it contains the work of seven Bahraini artists. One of the wonders of the Biennale is that this exhibition is both a compelling and authentic portrait of contemporary Bahrain, a relatively small archipelago thousands of miles away, and a collection which will speak directly to its Venetian and international visitors.
 "I was interested in ideas about time, displacement, delay," explained one curator, Amal Khalaf. "The sea becomes a means to identify and critique interrelated systems of culture and power, such as land-sea divides, navigation and movement, mystery and emotion and the vulnerabilities of our ecosystems," explained the programme.
 Just occasionally, the lexicon of those who inhabit the world of contemporary art can seem a little obscure to those of us who are uninitiated. What did it all mean?
 The exhibition, which runs May 8-12 and is organised by DRAGO (who also published the catalogue of the Saudi Arabian pavilion), is Bahrain's contribution to the Venice Biennale in 2019. Having previously had a national pavilion, this year what came from the nation of some 1.5 million was simply a collection, commissioned by Art Select, from Bahraini artists. Not being a national pavilion generally allows curators greater freedom, and the three of them here – Amal Khalaf, Tasneem Al Shurougi, and Kaneka Subberwal – had chosen a rather intriguing piece of work as their starting point.
 "The Wait," which gives its name to the exhibition, is a linoleum print. It shows a group of figures in traditional dress waiting for something. In the background are simple houses in Bahraini architectural style and the sky is washed a very light blue, the only colour in the piece.
 The artist is Nasser Al Yousif (1940-2010), celebrated in Bahrain and the Middle Eastern art world but little known otherwise. His hugely evocative work is known generally for its portrayal of folkloric traditions, its rhythmic depiction of dances and ceremonies, and for capturing the gentle repetition of life in Bahrain's villages, cafés and beaches.
 There are two reasons why this piece is especially interesting, though. Firstly, it is from 1999, when Bahrain was already a major oil-economy and life there had changed significantly. Of course, traditional ways of life still existed and still exist, but they were undergoing the familiar process of erosion and metamorphosis. Secondly, the artist had turned blind in the mid-1990s. The piece is in some ways, then, a glimpse of a past world from someone who remembered his country as it had been. A sort of "time capsule," in the words of his son, Jamal Al Yousif, who was at the exhibition.
 Al Yousif's influence on contemporary Bahraini art was profound, as Amal Khalaf explains. She is well placed to do so, having grown up in Bahrain and working now as projects curator at the Serpentine Galleries in London. Al Yousif studied in Cairo before teaching art for many years in Bahrain (very few artists there are professional). As such, it is possible to place him in the story of Gulf art which begins in the 50s and trace the use of symbols like birds, fish and sails in the wider story of Middle Eastern art.
 But if Al Yousif, the only non-living artist in the exhibition, reflects the past, what of the others? Bahrain can be defined in the years since independence from the British in 1971 above all by change, including change in the art scene. "Growing up in Bahrain, we didn't have a lot of museums, a lot of contemporary galleries at all. Now it's different," Amal reminisced. That is not to say that it is easier to be an artist – funding is still hard to secure and just last year a number of galleries closed for financial reasons – but the art is diversifying, in part because of the freedom of artists to work and collaborate across the world. 
 You can trace this in the work and biographies of the artists at the exhibition, many of whom studied and lived abroad, often returning to Bahrain with world class artistic credentials and continuing to work and exhibit outside of the country. Ghada Khunji, for example, is a hugely charismatic photographer exhibiting some deeply personal pieces about her mother, who recently died. Having grown up in Bahrain, she is a graduate of the Parsons School of Design and the International Center of Photography's Documentary Program, both in New York. Last year alone, she exhibited work at Sotheby's in London, and in Jordan, in a tour of the US, and in Washington DC.  
And yet perhaps the defining characteristic of work in Venice is an obsession with the past, with the sea, with pearl diving and the traditions of Bahrain itself. The best example of this is Hasan Hujairi, a softly spoken but hugely impressive musician, researcher, writer and translator. He studied in the US, Tokyo, briefly in the UK, and then completed a PhD in Seoul, South Korea.
 Hasan's most recent project has been to transcribe digitally the handwritten notes of the composer Majeed Marhoon (1945-2010). Marhoon became involved in the independence struggle as a young man in the 60s, and was sentenced to 22 years in prison during a half hour trial two years before the British left. He was made to serve his full sentence, for the most part in the Jidda island prison, where he became obsessed with the music of Beethoven.
 Studying almost solely the German master, Marhoon composed and managed to smuggle out his own works. One of these was taken by Emal's uncle, and found its way via his wife into the hands of a Swedish composer, and thence to an orchestra in East Berlin in the late 70s. When they played the work, around 200 records made their way back to Bahrain. In Hasan's words: "Suddenly overnight we all knew we had a classical music composer."
When you ask Hasan why he is so captivated by the Marhoon, he talks about the appeal of the music itself: playful, almost childish, and very much self-taught. "It feels very honest," he explains. This attribution of honesty strikes me as similar to the way many of these artists relate to the work of Al Yousif. They create new and exciting works with influences and collaboration from all over the world, and yet they are all drawn back to the past, what they think of as Bahrain's history and their inheritance.
 Here, then, is the real displacement and dislocation that the exhibition had set out to examine. More than simply an exploration of the sea, which is such an important cultural symbol to Bahrainis, it becomes an exploration of Bahrain's modern identity too.
 It is fashionable to talk about identity – how it is formed, where it comes from, what happens when you have multiple. It is today's zeitgeist, in some ways. What this exhibition manages to do is to raise these questions in concrete form: how do Bahrainis relate to their own history? Is it possible for them to escape from the past? As such, it is one of the most fresh, compelling and raw exhibitions you can visit at the Biennale this year. 
gb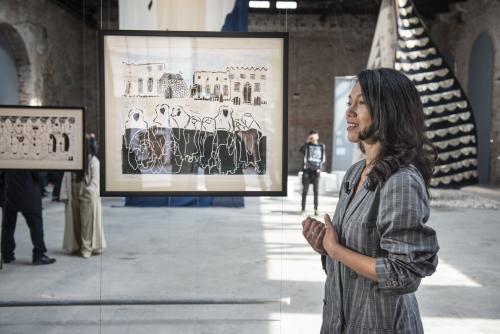 Amal Khalaf standing beside Nasser Al Yousif's "The Wait". Image: Gianmaria De Luca