Italian Navy to participate in Open House Rome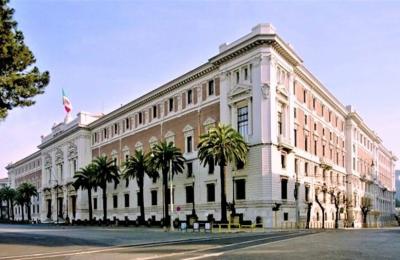 Palazzo Marina will be open to the public for the duration of the event. Photo credit: Scoprendo Roma
ROME - The Italian Navy will participate for the eighth consecutive year in Open House Rome, an international architecture, art and culture event hosted in the Eternal City, by opening the doors of Palazzo Marina to the public and offering free guided tours.
 Open House Rome is an annual event, this year hosted on May 11 and 12, that sees hundreds of buildings in the Capital known for their remarkable architectural characteristics opened to the public. The Navy's will participate by opening the doors of Palazzo Marina, the ministerial seat of the armed forces famed for its architectural intrigue.
 Visitors at Palazzo Marina will be able to immerse themselves in the history of maritime Italy, through a path that allows them to visit the inner courtyard, the monumental Scalone d'Onore that leads to the Salone dei Marmi, the long corridors speckled with marble, the elegant Historical Library with over 40 thousand volumes, many of which are rare manuscripts, and several rooms rarely open to the public.
 Paintings, memorabilia, photos, historical uniforms and ancient naval instruments will be on display as visitors are able to journey through history, art, tradition, architecture and maritime iconography.
 The Navy's participation forms part of its commitment to military history which sees it work closely with important historical sites to bring people closer to the beauty of the art, culture and history of Italy and the sea.
 The public will be able to visit from 10.00 to 12.00 and from 14.00 to 18.00, entering the Palazzo from Piazza della Marina 4 (side Via Flaminia).