Turin book fair boycott over Salvini's far-right publisher
Deputy PM Matteo Salvini. Image: Il Fatto Quotidiano
TURIN – The presence of the publisher of Deputy Prime Minister Matteo Salvini's new book has caused many to boycott Turin's upcoming book fair in protest.
 Salvini caused controversy last week when he chose Altaforte, a publishing house with close links to neo-fascist CasaPound, to publish his new book, Io Sono Matteo Salvini, intervista allo specchio.
  After days of speculation over whether the book would be allowed at the fair, the confirmation that it would caused outrage among many Salone del Libro Torino regulars.
  The publishing house is led by Franceso Polacchi, who was behind CasaPound's monthly Il Primato Nazionale. He will be at the book fair presenting Salvini's book. He has in the past described himself to Un giorno da pecora as "fascist in the only sense which is possible.
 Writer Wu Ming and essayist Carlo Ginzburg were the first to boycott Italy's largest trade fair for books. "Never shoulder to shoulder with fascists: Altaforte really is the publishing house of Casapound," they wrote.
 Carla Nespolo followed, national president of ANPI, who was soon joined by ZeroCalcare writing on Facebook: "Objectively, this would never have happened before. Every week here we move a little towards the abyss." People followed suite, the publishing house of Giuseppe Civati, formerly of the Democratic Party but now leading the new centre-left Possible.
 Earlier in the week Christian Raimo, a consultant on the editorial board of the Salone, was forced to resign after he had written a Facebook post in which he argued that "Neo-fascist, sovereign ideas are the basis for the ideology of the majority of the government." In his resignation, he stressed that this was only a personal view.
 Altaforte have published other titles such as "La dottrina del fascismo" by Benito Mussolini and Giovanni Gentile. Their website advertises this as a book which can be considered the "cultural foundation" of a movement which "through struggle, led fascism itself to complete the Revolution."
 Salvini's book was written by journalist Chiara Giannini with a preface by Maurizio Belpietro. Salvini's press office pointed out that the book was not authored by Salvini himself, and claimed that the publishing house was chosen freely by the author.
gb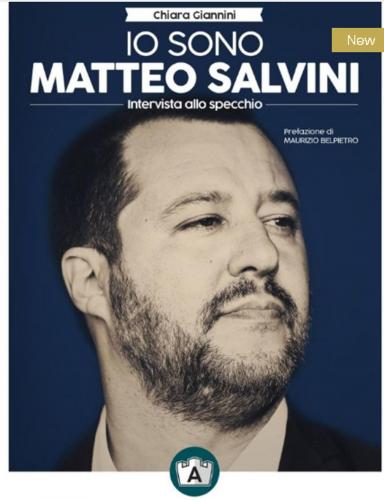 "Io Sono Matteo Salvini" is published by Altaforte