Neapolitans rally against organised crime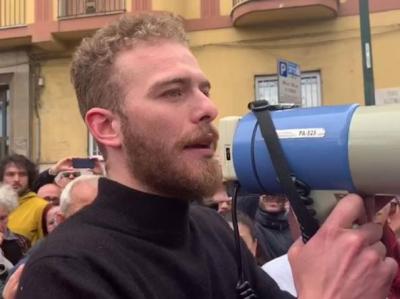 Antonion Piccirillo. Image: Corriere della Sera
NAPLES – Antonio Piccirillo, the son of a local mafia boss, led hundreds in protests in a central piazza of the Campagnian capital against organised crime in the wake of the shooting of a 4-year old girl on Friday.
 Hundreds of protestors gathered for the "DisarmiAmo Napoli" protests, intended as a revolt against mafia crime in the city. Mariano Di Palma, one of the organisers, described it as "a civic, social and cultural response from every part of the city."
A bullet passed through both of Noemi's lungs after she emerged from a nearby building during the ambush of a local Mafioso. Her grandmother Immacolata Molino, 50, was also injured, as was Salvatore Nurcaro, 32, the intended target of the ambush.
 Piccirilo, 23, took up a megaphone to the surprise of many to preach against the life he was brought up to live. "Let us break free from our Camorra fathers," he urged the diverse crowd of fellow Neapolitans, which included children, pensioners, professionals from all walks of life, and many families.
 The crowd expressed anger and frustration, with numerous signs branding the mafia men simply "infami" (villains). Piccirillo, coming from the other side, had a more specific though no more conciliatory message.
 "I am Antonio Piccirillo, son of Rosario, who has made some bad decisions in life. Judges and journalists would call him a camorrista. I want to send a message to us, the sons of these people: always love your fathers, but break free from their lifestyles completely because it doesn't pay. It gives you nothing. You will be pre-judged your entire life."
 His father, Rosario Piccirillo, stands accused of extortion and of association with the Mafia. He is currently in prison.
 He went on: "The Camorra has always done appalling things, and has always been dishonest. Good people are those who respect others. The camorristi don't respect anyone."
  For everyone here, though, concern for Noemi underlies the surface demand for action. Many marched in explicit support of the little girl and her family, as well as against crime in Naples more generally. Among them was another little girl, with a placard which simply read: "Forza Noemi."
  In a statement from the Santobono hospital, the 4-year old's condition was described as still "extremely serious." She remains in a medically induced coma on a life support machine after surgery Saturday night to remove the projectile. It is understood that her grandmother will recover within a few days. Nurcaro, who was shot six times, also remains in a serious condition.
 There was no shortage of political and official representation at the demonstration. Councillor Alessandra Clemente, president of the municipality Ivo Poggiano, and supporters of mayor Luigi de Magistris' movement DemA were joined by two city councillors for M5S. Also present were Libera, a group of organisations opposed to mafias and organised crime, and the anti-Camorra minister Fabrizio Vanorio.
 It is hoped that this dark episode will mark a watershed in Neapolitan crime, with the city saying, once and for all, "no" to organised crime. It remains to be seen, though, whether the desire to do things differently can be turned into real change itself.
 Within the last month, as well as numerous less serious crimes, Naples saw a shooting in front of a school. There is a feeling in the city that more must be done to make a real difference. "Investigations, arrests, trials are not enough, if we don't fight against this evil which a culture of mafia and corruption breeds," said Father Luigi Ciotti, according to La Repubblica. Ciotti, a priest from Turin, is a lifelong opponent to organised crime and mafia organisations.
 Meanwhile, others are turning to the police investigation itself. CCTV of the incident obtained by the authorities show the killer, dressed in black, jump from his scooter and approach Nurcaro. The pair come into contact before Nurcaro flees. His would-be assassin chases, shooting and, in the process, hitting little Noemi.
gb
Protests in Naples' Piazza Nazionale. Image: La Repubblica di Napoli