Franco-Chinese battle to run FAO intensifies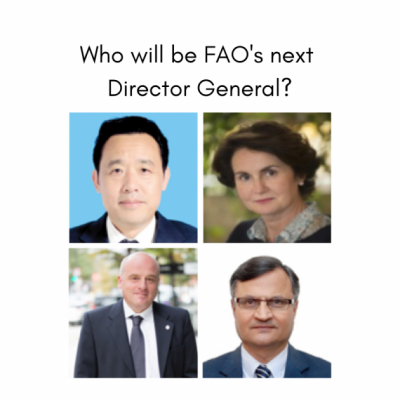 ROME -- Francophone African countries have endorsed France's candidate to run the FAO as Uruguay announced it will vote for China's deputy agriculture minister Qu Dongyu in a sign that outgoing director general José Graziano da Silva is using his influence to garner votes for Beijing in Latin America, diplomatic sources say.
 An official statement was made by Uruguay's foreign minister Rodolfo Nin Novoa during a meeting with China's Deputy Prime Minister Hu Chunhua in Montevideo, Mercury news reported. China is Uruguay's main trade partner and a significant market for beef, soybeans and other agriculture commodities. Chinese companies are also interested in setting up a port for the South Atlantic fishing fleet in Montevideo, a project which has triggered strong reaction from local environmentalist groups and low key warnings from neighboring Argentina.
 Dongyu is one of four candidates which have been presented by FAO Member Countries for the post of FAO Director-General, to follow on Brazil's Graziano who has held the post for two consecutive four year periods. Uruguay has been a traditional ally of Graziano's mentor, former Brazilian President Ignacio Lula da Silva, now serving a prison sentence for corruption. Graziano's chef de cabinet Mario Lubetkin is from Uruguay and expects to become its ambassador to the FAO after the election and both he and Graziano evidently are using their positions to curry favour with the Chinese and campaign behind the scenes for the candidature of Dongyu.
 Lubetkin issued a kafkaesque memo to FAO staff earlier this year forbidding them to discuss the election. Election for the agency's top leadership post with a four-year term of office starting on August 2019 will take place at the 41st Session of FAO's Conference (Rome, 22-29 June 2019), the highest governing body of the Organization. The four candidates, each nominated by his/her government, are Qu Dongyu (China), Catherine Geslain-Lanéelle (France), Davit Kirvalidze (Georgia) and Ramesh Chand (India).
 Ms Geslain-Lanéelle, seen as co-favourite for the job with the Chinese mandarin, currently is touring Pacific countries to drum up support after receiving official backing from Francophone African countries at their recent summit in Ougadougou.
 The four candidates addressed the FAO Council last month, but their speeches were not webcast in violation of normal UN practise.
 Also last month Chatham House, the British public policy group, and the Italian Institute for International Political Studies sponsored a discussion in Rome entitled "Beyond Food Security: The Challenges for the next FAO Director-General." That event was webcast. Chatham House and the Italian institute invited all the candidates to take part, but only two agreed to participate, Kirvalidze and Geslain-Lanéelle.
 During that event, Per Pinstrup-Andersen, a professor emeritus at Cornell University, said that FAO needs to move beyond trying to make sure that everyone in the world has enough calories to improving diets. In some countries people do not have enough iron, in others not enough Vitamin A, while in many countries people are overeating, resulting in obesity, Pinstrup-Andersen said. The FAO's goals should be improving human and environmental health, reducing poverty and mitigating climate change in helping countries adapt to it, he said.
 Gerda Verburg, coordinator of the UN Scaling up Nutrition (SUN) movement, agreed, saying "The future of food is not in the calories, it is in the quality" of food. Verburg said it is also important to bring technology to female food producers in developing countries. In her presentation, Geslain-Lanéelle said agriculture needs to be made more productive and efficient while more food processing and retail jobs are created in rural areas. She also said that FAO should be a "convenor" with other international organizations to meet the UN Sustainable Development Goals. Kirvalidze emphasized that trade should be fair as well as free. Members will cast their vote on a one country-one vote basis in a secret ballot which requires a simple majority for a valid outcome.