Quirinal Palace to exhibit centuries of recovered art
President Mattarella inaugurates the exhibition. Photo credit: Quirinale
Rome – The Quirinal palace is to host a new exhibition entitled The art of saving art in the halls of Palazzine Gregoriana from May 5 to July 14.  Curated by Professor Francesco Buranelli, the exhibition will mark the 50th anniversary of the establishment of the Carabinieri Command for the Protection of Cultural Heritage, a specialized department of the Carabinieri Corps established on May 3, 1969, to combat crimes against the historic Italian artistic heritage.
 Fifty years of intense investigative activity and refined cultural diplomacy have allowed the well-deserving department to save and restore almost two million works of art, giving them back to the historical and artistic heritage of the country. Among the recovered works are archaeological finds stolen from the national territory, paintings, furniture, pottery, liturgical furnishings fraudulently torn from museums, public places, churches and homes.
 The exhibition will display some of the most significant of these recovered cultural assets, as well as works returned to the national artistic heritage thanks to the action of cultural diplomacy implemented in conjunction with the Ministry of Cultural Heritage and Activities.
 The art of saving artwas inaugurated by President Sergio Mattarella at an event attended by the Minister for Cultural Heritage, Alberto Bonisoli, the General Commander of the Carabinieri, Giovanni Nistri, and the Commander of the Carabinieri Command for the Protection of Cultural Heritage, General Fabrizio Parrulli,
 Visitors will have a chance to admire objects that have been stolen from churches, museums, archaeological areas, libraries and archives, learning about their importance as well as the history of their recovery. On display are also some assets placed in safe areas of central Italy affected by the dramatic seismic events of 2016. Specialized staff guide visitors along the exhibition route and in consultation of the database available online.
 Among the masterpieces on display, some one hundred, are the Madonna of Senigallia by Piero della Francesca, the Crater of Euphronios, the Trapezophoros, the Triad Capitolina, the gardener of Vincent Van Gogh, Le Cabanon de Jourdan by Paul Cézanne, the goldsmiths Castellani, the Holy Family with a Saint by Andrea Mantegna, the splendid Apulian red-figure masked crater attributed to the Painter of Darius and datable around 330 BC, loaned to the National Museum of Taranto and returned in 2009 by the Cleveland Museum.
 The design and planning of the exhibition is by Michelangelo Lupo, the exhibition catalog is published by De Luca Editori d'Arte. The art of saving art will be open Tuesday, Wednesday, Friday, Saturday and Sunday between 10:00 and 16:00 (last entry at 15:00).
 Tickets must be booked in advance. This can be done by visiting http://palazzo.quirinale.it, by calling 06 39.96.75.57, or at the Infopoint on the ascent of Montecavalla 15.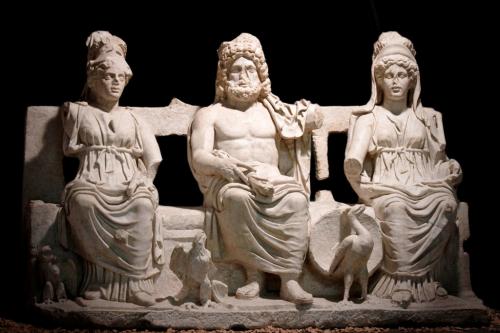 The Triade Capitolina. Photo credit: Quirinale
Christopher Columbus' letter. Photo credit: G. Nitti