'Mafia Minister' under pressure to resign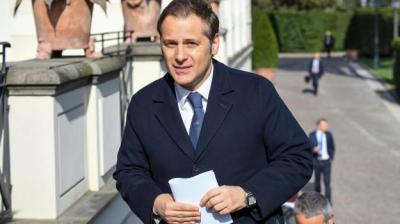 Armando Siri under pressure to resign, published by the Gazzetta del Sud
ROME – League senator Armando Siri, who is accused of corruption and links to the Italian mafia, has offered his resignation within 15 days if not cleared.
  This was not enough for Prime Minister Giuseppe Conte, however, who will call for the immediate resignation of the Lega senator at the next Cabinet meeting.
 This follows a period of uncertainty in which Deputy Prime Minister Di Maio had called for the dismissal of Siri while his counterpart Matteo Salvini attempted to protect his ally. Siri broke the deadlock in dramatic style, releasing a statement just four minutes before Conte's planned press-conference, causing palpable annoyance at the Palazzo Chigi.
 Siri protested his innocence, declaring "I reassert that I have always acted correctly, in respect to laws and to institutions, and that I have nothing to hide."
 Salvini, who is in Hungary visiting Viktor Orbán's anti-immigration wall, again went some way to mitigate the threat to Siri, demanding that Conte explain the reasons behind his decision. Siri was nevertheless furious at the League: "I invented the flat tax and they have dumped me."
 Siri has served as Undersecretary to the Minister of Infrastructure and Transport, Danilo Toninelli, since 2018. He is under investigation for money which was intended to help pass amendments on wind power legislation. The money allegedly went to a contractor with links to Matteo Messina Denaro.
 The Sicilian has been a fugitive since 1993, is one of the top ten most wanted criminals in the world, and is considered the capo dei capi within the Italian mafia.
gb