Fico slams 'unsafe' Egypt for lack of progress in Regeni case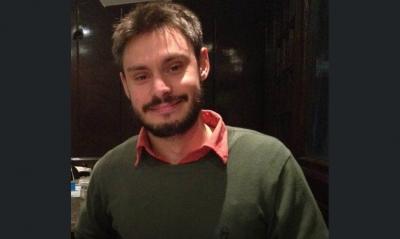 Giulio Regeni was kidnapped and murdered in Egypt in 2016. Photo credit: Panorama
ROME - Chamber of Deputies speaker Roberto Fico has described Egypt as an "unsafe country" and called on the nation to take new measures in its investigations into the 2016 murder of Cambridge student Giulio Regeni.
 "After more than three years without the truth about the torture and murder of an Italian citizen [coming to light], the time for talking is over, now we need facts," Fico told il Corriere della Sera in an interview.  
 Fico went on to discuss the cooling of diplomatic relations between Italy and Egypt. Italy earlier this year cut off ties with the latter following the lack of any developments towards truth in the Regeni murder. Fico also advocated that economic relations, too, should take a back seat until progress is seen as "nothing… should outweigh the importance of justice."
 Despite having been promised progress by Abd al-Fattah al-Sisi, Egypt's president, in September, Fico disclosed that nothing has been done since. "[His promises] mean nothing to me anymore," he went on to add. Fico was also highly critical of the state, describing Egypt as an "unsafe nation."
 "I cannot consider a country in which a man is kidnapped and murdered, and three years later a trial against his kidnappers and murders has still not been opened, to be safe," Fico said.
 Giulio Regeni, a postgraduate student at Cambridge University at the time, was abducted and tortured to death in Egypt while undertaking research in the nation at the time. His half-naked and mutilated body was found on February 3 2016 on the outskirts of Cairo following his disappearance. An autopsy revealed abrasions and bruising across his body, fractured bones, stab wounds, cigarette burns and a brain haemorrhage.
 Little progress has been made into the case since, with many suspecting the Egyptian government's involvement in the disappearance given Regeni's academic research on the state. In 2017, the New York Times alleged that the Obama administration had proof that Egypt's leadership was "fully aware" of the incident.
 The lack of evolvement in the case has drawn sharp criticism from the international community and amongst academics of all fields.
 Italy's Chamber of Deputies was set to discuss the Regeni case further at the end of April, however only 19 deputies were present at the allotted time. However, Fico downplayed the significance of this event, stating that: "Those who live and work at the Chamber [of Deputies] know that general discussions in the chamber do not need all members to be present," before going on to reiterate the tougher line that the government has now adopted with Egypt.  
ea
Roberto Fico is the Speaker for the Italian Chamber of Deputies.