Brescia secure promotion to Serie A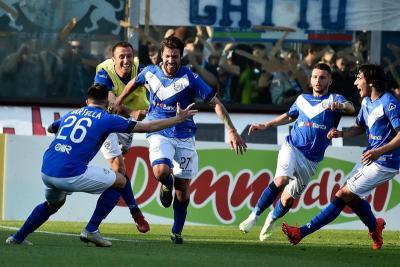 Brescia players celebrate their promotion. Photo credit: Giornale di Brescia
BRESCIA - Brescia Calcio Wednesday celebrated their return to the Serie A, victory over mid-table Ascoli securing their promotion to Italy's top league for the coming season.
 Despite finishing 16th in last year's Serie B competition, one place above the relegation spots, Brescia have bounced back in style this year, losing only four of their 34 matches so far and confirming their return to the top flight with two games to spare.
 Midfielder Daniele Dessena was the man to secure Brescia's promotion, his goal ten minutes before the break proving enough to secure a fifth victory in six games for the home side.
 Brescia return to Serie A after eight seasons in the second division, and will likely be joined in automatic promotion by Lecce or Palermo, as well as a third team who will have to triumph in the end of season play-offs.
 Brescia's promotion has also been a great point of pride for club owner Massimo Cellino who bought a majority stake in the northern outfit at the start of the 2017-18 season. Cellino had previously spent three torrid seasons at Leeds United, and English team playing in the nation's second division. 
 Cellino's time at Leeds got off to a rocky start before he had even taken full ownership of the club. His initial take-over attempt was blocked by the Football League's ownership test that adjudged him not to live up to the "fit and proper" standards they required. While he then later won on appeal, completing his purchase of the club in time for the 2014-15 season, he was banned and asked to resign his position at the club due to accounts of tax evasion in Italy only half a year later. 
 Frequently chastised for his outspoken nature which saw him publicly decry the Football League, his staff and his own players on multiple occasions, Cellino's relationship with the fans soon began to grow tense too. After promising to sell Leeds to its fanbase, Cellino's lawyer later disclosed that the owner had made a u-turn on his stance and would remain in his position despite publicly disclosing in an interview with The Times that he deeply regretted purchasing the club.  
 Unsurprisingly, fan protests against him crescendoed yet further and he stopped going to Leeds games all together following a string of vocal protests, selling the club fully in May 2017.
 While his tenure at Brescia was initially equally tumultuous, going through four managers in his first season, Cellino's arrival has proved nothing but positive for the Italian outfit. Under his guidance Brescia, who were almost relegated to the Serie C last season, have risen to a new level in what is only Cellino's second season at the club.  
 Brescia's return to the Serie A will certainly come as a welcome boost to both the club and the owner after some turbulent recent years.