Innovative steel recycling project to launch in 2021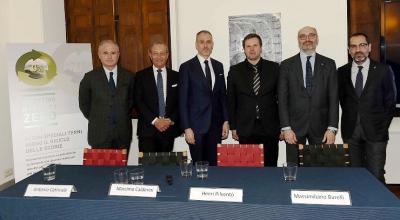 Representatives of AST and Tapojärvi Oy unveiled the innovative project. Photo credit: AST
TERNI - Italy's first recycling project aimed at reusing waste products from the production of stainless steel is set to be operational as of 2021. The project has been endorsed by Acciai Speciali Terni (AST), a leading metal production company, in collaboration with Finnish firm Tapojärvi Oy.
 Speaking at a presentation of the project at the Rome residence of Janne Taalas, Finnish Ambassador to Italy, AST CEO Massimiliano Burelli said: "[This is] an innovative project on which we have worked for over three years, and it will help us to convert the slag of the steel mill into a raw and second marketable material. The benefits are twofold: not to send the material to landfills and to preserve the environment."
 Burelli went on to discuss how the slaf can be treated to take on characteristics of materials such as gravel and sand, and could thus be used as an alternative to natural materials in the construction of road foundations. It could, alternatively, be incorporated into a bituminous or cementitious matrix to produce concrete or asphalt. The forecasted investment in the recycling project is set to be between 57 and 65 million euros.
 Family-run Finnish company Tapojärvi Oy, who were also present at the presentation, will lead the project. AST has explained that it was selected after a complex process of technical checks, inspections and meetings.
 AST stated that this international merger "mark[ed] an important step forward and will allow to increase the recovery of the residues generated by the iron and steel process, first of all the slag, equal to about 30% of the steel produced."
 Ambassador Taalas said he was satisfied with the important collaboration agreement reached between the two companies, recalling that Finland, despite its demographic limitation, achieves world-class results of industrial and technological innovation in sectors such as environmental protection and care methods.
 The merger also marks an important step forward for Tapojärvi, a company started over 60 years ago by a family in the Arctic Circle, who established a new base in Terni last year to create a first Italian branch for the firm. Tapojärvi focuses primarily on the treatment of steel industry materials, and helps create new products and business operations by reusing the waste products.
 Tapojärvi has been working with waste treatment in Finland for years. In 2010, the company received an award for the best waste treatment company in Sydney, Australia. The company prides itself on constantly developing and always looking for innovative, advantageous and sustainable solutions, to be competitive on international markets.
gn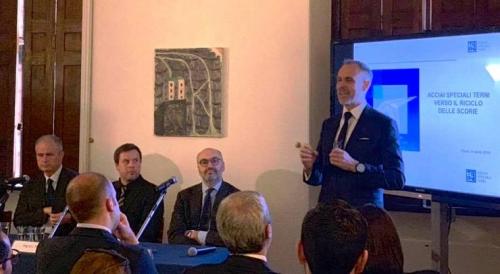 Finnish Ambassador Janne Taalas spoke of his excitement for the joint project. Photo credit: AST
AST base in Terni. Photo credit: AST