ATAC officials investigated for botched Bareberini repairs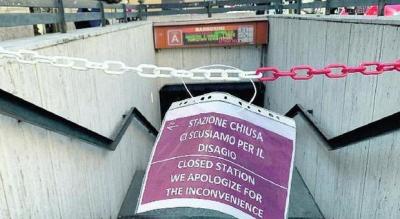 Barberini is one of three central stations in Rome closed for essential maintenance works. Photo credit: Il Messaggero
ROME - Investigations into a series of technical issues that closed Barberini station have revealed that important moving parts of faulty escalators were held together with pipe clamps and not properly repaired, judicial sources have stated.
 Top ranking officials at transport agency ATAC are consequently among the 12 people under investigation after a step on an upwards moving escalator collapsed while in use.
 Investigators discovered that the escalator's breaks were held together by pipe clamps rather than replacement parts, Il Messaggero revealed Monday.
 It is thought that the botch repair job may well have prompted further breakdowns rather than ensuring they did not occur.
 Magistrates found that "Despite subsequent maintenance intervention, the safety of the escalator remain[ed] seriously compromised."
 Barberini is one of three central stations in Rome to be closed for maintenance work after authorities were forced to temporarily shut Piazza di Spagna and Repubblica.
 The latter has been closed since October 2018, after an escalator collapsed injuring 23 travelling football fans.
ea