UNHRC evacuates hundreds of refugees in Libya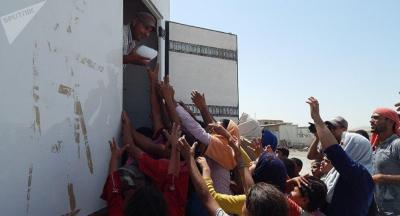 Photo credit: Sputnik News
TRIPOLI - The United Nations Human Rights Council (UNHRC), Wednesday evacuated about 325 refugees from the Qaser Ben Gasheer detention center south of Tripoli, following the deterioration of security conditions and escalating violence.
 The relocation, carried out together with International Organisation for Migration, was started following an episode of armed violence against prisoners who were protesting about the conditions in which they were held, during which gunshots were reported fired into the air.
 Although there were no injuries due to the bullets, 12 refugees were injured and taken to hospital.
 "The dangers for refugees and migrants in Tripoli have never been greater," said Matthew Brook, UNHRC Deputy Head of Mission in Libya. "It is vital that refugees in danger can be released and safely evacuated."
 The refugees have been transferred to the Azzawya detention centre, where the risk of being in the midst of hostilities is less.
 Upon arrival, the refugees received basic necessities and medical care from UNHRC and its partner International Medical Corps.
 The most vulnerable, including women and children, have been identified and will be transferred to the UNHRC Collection and Departure Centre.
 The relocation was carried out with the support of the Libyan authorities, the UN Support Mission in Libya (UNSMIL) and the United Nations Office for Humanitarian Affairs (OCHA), which facilitated a humanitarian corridor to make the transfer possible.
 It is the fourth transfer organized by UNHRC since the recent escalation of the conflict in Libya, with the Agency's teams working to take refugees away from danger.
 The UNHRC has relocated over 825 refugees in the last two weeks alone, taking them out of detention centres of Ain Zara, Abu Salim, Qaser Ben Gasheer, Tajoura and Zintan.
 Concern remains for about 3,000 refugees and migrants who remain in detention centres in Tripoli.
 As security conditions deteriorate it becomes imperative to immediately release refugees and migrants and provide them with a safe way out.
 Current conditions in Libya continue to highlight how the country is a dangerous and unsuitable place for refugees and migrants. The UNHRC used the opportunity to stress once more that no effort should be spared to prevent people rescued at sea from being returned to Libya.